A man who pleaded guilty to stealing items valued $187,000 after breaking into a woman's home was yesterday sentenced to two years' imprisonment when he appeared before Magistrate Fazil Azeez at the Georgetown Magistrates' Court.
Gary Khanhai was accused of breaking and entering the home of Sasha Devi Bushram on September 7 at Georgetown and stealing one laptop, jewellery, and other items valued $187,000.
The man first made an appearance before acting Chief Magistrate Priya Sewnarine–Beharry yesterday when he pleaded not guilty to the offence and was remanded while the matter was transferred to Magistrate Azeez in Court Five.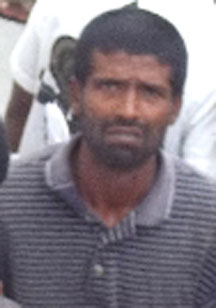 However, when the accused appeared before Magistrate Azeez he pleaded guilty to the offence and was sentenced to two years imprisonment.
According to the facts presented to the court by the prosecution, on the day in question the VC secured her premises and left. On her return she found that her home was broken into and she subsequently reported the matter.
During the police investigation the accused was arrested and questioned. The prosecution added that the man took the ranks to the location where he had hidden the laptop and the VC later confirmed that it was hers.
The prosecution objected to Khanhai being granted bail on the grounds that he was released from prison two weeks ago following a sentence of one year for simple larceny. It was also stated that if granted bail it was likely that he would not return to court since he did not have a fixed address.
Around the Web