A post-mortem examination has revealed that the young fisherman who was found dead at the Paradise Village, Essequibo Coast sea shore on Saturday died as a result of a fractured spine.
Crime Chief Seelall Persaud told Stabroek News that the pathologist has opined that the injury could have been sustained due to a fall. He said that it was based on the post-mortem results and the doctor's conclusion that ranks returned to the scene to conduct further investigations.
Seelall Persaud said that from all indications, the dead man, 21-year-old Rajhu Persaud a/k Kishan of Jib Housing Scheme also on the Essequibo Coast was walking on a piece of wood which was placed across the sluice when he fell to the ground. He explained that the body was found just below the board.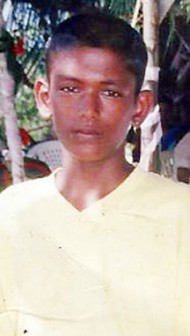 Police had said in a press release that they were investigating the circumstances surrounding the death of the fisherman whose body was found around 07:00 hrs with suspected marks of violence.
Persaud's younger brother, Bisham, had told Stabroek News at their home that his elder brother had just slipped a movie into the DVD player the day before (last Friday) when he suddenly got up and left without saying anything. This was around 17:30 hrs, Bisham recalled, adding that Persaud never returned.
Persaud's body, this newspaper was told, was discovered by cattle owner Talesh a/k "T" (only name given), who had gone to the seashore to tend to his animals that were grazing there.
Around the Web