PPP campaign spokesman Robert Persaud yesterday assured that the ruling would maintain a separation between its own funds and state resources in the elections period.
"…We will continue to separate between party activities and the use of state resources," Persaud told a briefing at Freedom House. He was at the time responding to concerns about the ruling party's alleged "abuse" of state resources to fund its elections campaign raised by opposition coalition APNU spokesman Dr Rupert Roopnaraine last week.
Last Thursday, Roopnaraine noted that APNU planned to approach the Guyana Elections Commission (Gecom) to voice its concerns over elections financing and the abuse of state funds by the ruling PPP/C. He decried the "complete lawlessness" of the administration in the run up to the elections and he said that the APNU is taking steps to ensure that the abuse of funds is noted by Gecom and further afield.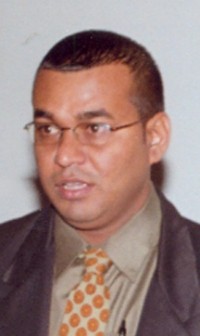 "We do not believe that we have anything like a level playing field in regards to financing," Roopnaraine emphasised.
Persaud yesterday said that he was "not sure that Dr Roopnaraine [understands] the nature of activities and how the ruling party operates" during its elections campaign. He added that if a minister of the government or the president travels on a state engagement, "I'm not sure how you can strip him of being president or minister… a minister is still a holder of an office and its important to make sure the two do not co-mingle in terms of resources and private funds."
Additionally, Persaud, who noted that it is an expensive undertaking to run for office, said that the party has had major fundraising activities here and overseas in order to raise its own funds for its elections campaign.
At the moment President Bharrat Jagdeo and PPP presidential candidate Donald Ramotar are in Toronto, Canada and will soon visit New York in order to interact with party supporters there. Persaud noted that while the President's visit is mainly for his attendance to the United Nations General Assembly in New York, the duo will also participate in other engagements while in the US.
"They [the visits] are in response to the wider Guyanese community and organisations interested in Guyana's development. Wherever Guyanese are and they request visits, we would continue to respond," Persaud said.
Meanwhile, Persaud also said that the PPP still does not view the AFC as a threat to its support base. He added that the populace will judge the ruling party's performance and its vision to "transform Guyana" on elections day.
Asked about the PPP/C's list of candidates, Persaud noted that discussions are still ongoing. When asked about the make-up of the list and whether there are new faces being considered as opposed to party stalwarts, he stated that, "no one can draw conclusions on who is in or out. We would want to maintain and to ensure that many outstanding Guyanese are there." He added that the party will pronounce on the issue, including its prime ministerial candidate, in the coming weeks.
Around the Web