Head of the Presidential Secretariat Dr Roger Luncheon yesterday testified that he was unaware of the criteria used to identify and select nominees for ambassadorial postings, and he admitted that some had no prior diplomatic experience.
He was at the time under cross-examination in the ongoing hearing in the $10 million libel case brought by President Bharrat Jagdeo against Kaieteur News columnist Freddie Kissoon, Kaie-teur News Editor Adam Harris and the National Media and Publishing Company Ltd, the newspaper's publisher.
When Luncheon was asked by defence counsel Nigel Hughes whether Ambassadors and High Commissioners were selected randomly, Jagdeo attorney Anil Nandlall objected. But Justice Brassington Reynolds overruled him, saying that it was a follow-up question that was "put-able." During the more than two hours of cross-examination Luncheon faced, there were repeated objections by Nandlall, who submitted that most of the questions being asked were not only irrelevant but were unfair.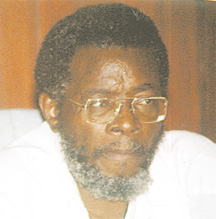 Luncheon disclosed that the selection process was not random, while adding that it was only invoked when there is need to fill the posts that are vacant. He further noted that ambassadors are accepted by the receiving countries.
Nandlall objected to Hughes' attempt to have Luncheon identify those without prior diplomatic experience, but this was also overruled by the judge, who said he saw the relevance. As a result, Luncheon admitted that Ambassador to Cuba Mitra Devi Alli, Ambassador to Brazil Kellawan Lall, Ambassador to India Ronald Gajraj and Harry Narine Nawbatt, the High Commis-sioner to Canada, had no prior diplomatic experience. He said Ambassador to Suriname Merlin Udho, Ambassador to China David Dabydeen and Ambassador to Caricom Elisabeth Harper had diplomatic experience prior to their postings. He also acknowledged that Harper, who is Director General of Foreign Affairs Ministry, had significant diplomatic experience when compared with the others.
Meanwhile, Luncheon dismissed the suggestion by Hughes that former Ambassa-dor to Brazil Cheryl Miles was recalled after she was nominated for the post of secretary general of the Amazonian Cooperation Treaty Organization (ACTO). Luncheon said he was unaware that Miles, a Guyana scholar, was nominated/recommended for the post and that he was "totally unaware" that she was not appointed because there was no support from the president.
"That is totally inaccurate. I do have a recollection of her recall. Her term had ended," he said, while adding that like with all ambassadors whose terms have ended, she returned home.
'Primary
beneficiaries'
The libel suit was prompted by a June 28, 2010 Kissoon article titled, 'King Kong sent his goons to disrupt the conference', and the defence is seeking to justify its portrayal of Jagdeo as an ideological racist who heads a government that practises racism.
In this vein, during yesterday's cross-examination, Luncheon was asked about the country's athletic facilities and diagnostic centre, which he acknowledged have been and are to be constructed in areas populated predominantly by Indian Guyanese.
He said the new site for the national athletic track is to be situated at Leonora, while the new public swimming pool is located at Lilendaal, George-town. However, he did not agree with Hughes' assertion that the primary beneficiaries of these facilities were persons of African descent.
Additionally, Luncheon also noted that an Ophthal-mology Centre is located at Port Mourant, Berbice, while diagnostic health centres were built at Suddie, on the Essequibo Coast, Leonora on the West Coast Demerara, at Diamond, on the East Bank Demerara and Mahaicony, on the East Coast, all of which are pre-dominantly Indian Guyanese inhabited areas. He said that the centres were constructed during Jagdeo's term. He added that one was constructed in the La Penitence area within the last two years, with major funding from the American military.
Luncheon was also questioned about the National Industrial and Commercial Investment Ltd (NICIL), which is the vendor/entity that enters into agreements to sell or transfer government property within the environs of the capital city of Georgetown, of which he is a member of the board.
Luncheon, who noted that the sale of government transported property may be carried out by agents other than NICIL, was shown several copies of the Official Gazette relating to the vesting of properties held by NICIL to other parties. He identified the documents, which were later tendered.
The lands identified were .5 acres to Roraima Airways Limited; 4.7 acres to Scady Business Corporation, a Tortola, BVI-based company; three plots – .5366 acres, .3152 and .7846 acres to Precision Woodworking, Luncheon said was a company owned by the Bulkan family; 103.88 acres at Plantation Liliendaal/Pattensen to National Hardware; .195 acres at Century Palm Gar-dens, Durban Backlands to Standford Solomon; 18.71 acres located at Plantation Ruimveldt to Queens Atlantic Investment Inc; .7892 acres at Plantation Ruimveldt to Shaheed and Zameeda Feroze; 6.491 acres at Planta-tion Ruimveldt to John Fernandes and 3.01 acres of public lands at Eve Leary to GBTI.
When Luncheon was asked if the lands transferred by NICIL during Jagdeo's term accumulated to in excess of 150 acres of prime commercial land and whether less than half of a percent was transferred to an African owned entity, Nandlall objected.
According to Nandlall it would be unfair to the witness to answer the questions as nothing was produced showing the racial composition of the ownership of the companies mentioned.
The judge overruled the objection, saying that he believed the witness was competent enough to answer the questions and could either agree, deny or say he did not know. At one point, tempers flared and the judge urged that there be calmness in the courtroom.
Luncheon, later responding to the questions, said that he could not confirm what Hughes was saying to be the truth. When asked to identify a piece of commercial property in Georgetown, other than Standford Solomon's that  was transferred to a person of African Guyanese descent, he singled out Herdmanston Lodge on Lamaha Street, adding that it was sold to a "Mr George."
'King Kong'
Meanwhile, Luncheon said 'King Kong' was the nickname given to late president Forbes Burnham by the then opposition.
Luncheon, who said he had never seen the movie King Kong, read the book or seen the comic strip, explained that he knew of the term as part of Guyana's political folklore.
Asked who 'King Kong' was in Guyana's political folklore, Luncheon said that on his return to Guyana in 1980, "I was made to understand that it was a reference to the executive president Forbes Burnham."
He said he would not accept that it is a term associated with persons of African descent, while adding that he suspected that it was the opposition that authored the 'King Kong' description. He could not say which one of the opposition parties, which included the PPP, the WPA and TUF at the time.
According to Luncheon, the information available at the time was that the opposition had characterised Burnham as 'King Kong' because of his behaviour. He pointed out that he knew there was some sort of story behind the term, while adding that information on this folklore was contained in leaflets and handouts circulated outside of public meetings. He said that he was aware of documentation regarding the term.
Luncheon added that in the Guyanese folklore, 'King Kong' was  portrayed as powerful and strong and based on his personal opinion, it was not necessarily associated with intelligence. He could not recall racism being one of the attributes associated with the term. He said too that he did not recognise Burnham as a racist.
Kissoon and Harris were yesterday present for the proceedings. The hearing will continue today.
Around the Web