Chairman of the Guyana Elections Commission (Gecom) Dr Steve Surujbally on Thursday briefed newly-accredited British High Commissioner to Guyana Andrew Ayre on preparations for the upcoming general elections.
Surujbally met Ayre and Ioana Logofatu, the Policy Officer at the British High Commission, at Gecom's Headquarters during a courtesy call, Gecom said in a statement.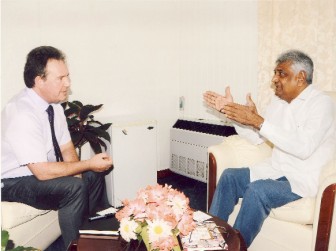 "Mr Ayre assured Dr Surujbally of the continued commitment to assist Gecom in every possible way regarding the conduct of the upcoming elections in a free, fair and transparent manner," it added.
According to Gecom, Surujbally updated Ayre specifically on the recent certification of the Official List of Electors (OLE), which marks the completion of a vital element of the preparations for the conduct of the upcoming elections.
He also recounted issues associated with the recently concluded claims and objections exercise and related activities leading up to the production of the OLE.
Among other things discussed, Gecom said, were its consultative open door policy towards political parties, civil society organisations and the media; the accreditation of domestic and international observers; the provision of technical support, including the delegation of an International Technical Assessor (ITA); the resuscitation of the Gecom Media Monitoring Unit (MMU); the establishment of an IT Monitoring Panel at Gecom; and statutory and administrative tasks to be completed in the run up to election day.
Around the Web