With more students opting to sit the Caribbean Advanced Proficiency Examination (CAPE), Minister of Education Shaik Baksh yesterday said there are plans to create a sixth form school.
Baksh, in the feature address at the 15th National Education Awards Ceremony, said that the school would serve to provide adequate space for students wishing to sit CAPE. He noted that this year saw the country's largest number of CAPE candidates. There has also been a huge surge in demand for secondary education, and especially in the hinterland communities, he added.
Baksh announced that this year has seen the largest expenditure for education in Guyana, while adding that on the agenda for the education sector is to have 80% of the teachers in schools to be trained at the Cyril Potter College of Education (CPCE), "so that we will have larger numbers of students coming out successful."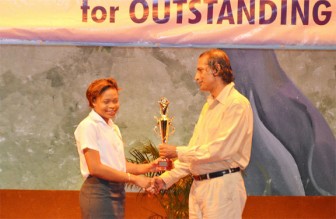 Also present at the ceremony, which was held at the National Cultural Centre, were Chief Education Officer Olato Sam and Prime Minister Samuel Hinds. Sam, in his address, stated that the ministry is hoping for a wider cross-section of schools to be represented at awards ceremonies in the distant future.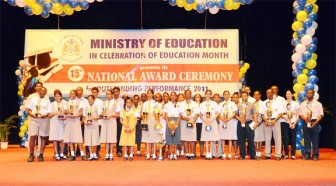 Adding to Baksh's statement on the education expenditure, Hinds noted that approximately 20% of Guyana's budget is going towards the education sector. While pointing out that Guyana might not be as developed as other countries, he challenged the Ministry of Education and teachers to make use of what they have.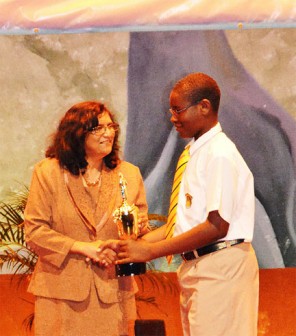 The ceremony saw a total of 40 awards being given to students and schools. In the National Grade Six Assessment (NGSA) category, Terron Alleyne, Sariah Singh, Sarah David-Long, Anjalie Persaud, and Carol Hopkinson were the recipients of awards for their outstanding performances at this year's examinations. A special award was presented to Natalia Brusche of St Margaret's Primary. Brusche, now a student of Brickdam Secondary, suffers from rheumatoid arthritis and was awarded for going against the odds and displaying determination and endurance as well as for her outstanding performance at the NGSA.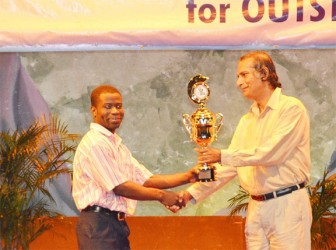 Anuradha Dev, Jonelle James, and Mariesa Jagnanan, all of Queen's College, were the recipients of the Best Senior Secondary Performance awards. Dev, who was the best overall performer in the country with 15 grade ones, was awarded twice, for her overall performance and for her outstanding performance in science at the Secondary Schools Education Certificate (CSEC) level. Kia Persaud, Yuni Abdul, Kellyann Persaud, Sophia Payne and Raphael Bascomb, the top CAPE performers for this year, were also recipients of awards.
In the Best Junior Secondary Performance category, Abram's Zuil Primary received two awards, while Saraswati Vidya Niketan and Marian Academy were the other recipients.
Four schools were also awarded for their evident improvements in this year's examinations results: Saxacalli Primary received the award for the most improved multi grade primary; Taymouth Manor Primary from Region Two for being the most improved primary; North Ruimveldt Secondary for being the most improved junior secondary; and St Roses High School for being the most improved senior secondary.
Rushana Dodson of Carnegie School of Home Economics received the award for her competence in garment construction, while Shenika July, Jenita Sealey, and Tiffany Williams received awards for cooking and preparing food, hospitality, and craft production and design, respectively. CPCE's Best Graduating Student Dillon Harris was also the recipient of an award for his performance.
The top performers from the technical institutes in Essequibo, Georgetown, and the New Amsterdam were also awarded, with five coming out of the Government Technical Institute.
Around the Web