(Trinidad Express) A 33-year-old La Horquetta man yesterday appeared before an Arima magistrate charged with murdering a La Horquetta mother, attempting to murder her daughter and pointing a weapon at her son.
Kurt "Wong" Pantin, of Sunny Ramadin Street, Phase One, La Horquetta, and North Post Road, Patna Village, Diego Martin, stood before Magistrate Adrian Darmanie in the First Court, charged with murdering Debbie Maloney, 36.
Pantin was also charged with attempting to murder one of Maloney's daughters, Stephanie Titus, 14, and pointing a gun at her brother, Nathaniel, 12.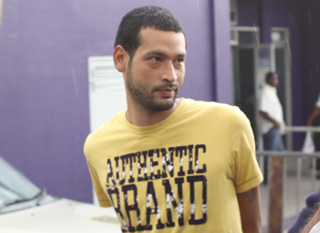 The alleged incidents occurred at the victim's home on Mannie Dookie Street, Phase One, La Horquetta, on December 19 last year, the charge read.
Pantin was charged with the alleged offences late on Tuesday by Cpl Sherwin Haynes of the Tunapuna CID, who was then assigned to the La Horquetta CID, following advice from Director of Public Prosecutions Roger Gaspard.
He was arrested by Cpl Peters and PC Melville of the Western Division while at his Diego Martin home last Friday.
Before Darmanie, Pantin said he had an attorney but could not remember his name. Darmanie then adjourned the matter to November 29 and remanded Pantin in custody.
Maloney, a mother of three boys and four girls, was shot dead by a man, dressed in female clothing, who appeared to be intoxicated after he stormed the family's home on that fateful Sunday evening.
Stephanie, a pupil of the Brazil High School, was also shot in the chest but recovered from the life-threatening injuries sustained while her brother, Nathaniel, was spared after he pleaded for his life.
In June of this year, Azalea Maloney, 19, made a public appeal for assistance for her younger siblings, Nathaniel and Stephanie who, she said, were still tramautised over the killing of their mother which occurred in their presence.
"When they remember their mother, is only painful memories they have from the night when she was killed. These children have nothing. They don't even have clothes to wear," Azalea said.
Azalea then told the Express that Stephanie and Nathaniel have been through tough and challenging times since their mother's murder.
"I just want to make sure that this little boy (Nathaniel) don't pick up no gun and shoot nobody when he gets older. My little sister who get shoot, you think she asked for that? People don't know what these two children are going through since their mother was killed. It's been very hard," she said.
Around the Web