Gunmen, in what appeared to be a well-orchestrated attack, robbed Guyana Chronicle Editor-in-Chief Mahender 'Mark' Ramotar at Agricola, East Bank Demerara early yesterday morning minutes after he slammed into a concrete median, after being braced by a speeding car.
A still traumatized Ramotar said he is thankful for life and urged all persons using the Agricola roadway to be vigilant.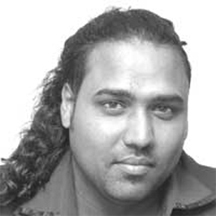 Police said in a press release yesterday that around 00:30 hrs Ramotar of Best Village, West Coast Demerara, was involved in a vehicular accident on the Public Road at Agricola and was later robbed by gunmen.
According to the release, a number of persons in the vicinity went to his assistance during which three men armed with firearms held him up and took away his licensed pistol, jewellery and laptop computer and fled.
Investigations are in progress. Up to press time no one had been held in connection with the incident.
Ramotar yesterday give police a detailed statement on what transpired. He later recounted to this newspaper that he left his office some time after midnight and was heading home when in the vicinity of Houston he noticed a vehicle "coming close to me and it was like trying to brace me off the road".
He said he later slammed into the concrete median and the vehicle, a yellow taxi, drove off, returned to the scene and two men jumped out.
Based on Ramotar's account by then, public-spirited citizens had rushed to his assistance. He recalled that three men from the crowd brandished guns, one of which was pointed at his temple, the other at his chest and the third at his ribs.
According to Ramotar, after the men relieved him of his firearm which he had on his person, he managed to break free from their grasp and started running.
He told Stabroek News that moments after the accident he had telephoned his photographer and while he was being attacked, the taxi the photographer was heading home in arrived. He said he jumped into the car which was parked several feet away from the scene and immediately went to the police station where a report of the incident was made.
He explained that the three gunmen were part of the crowd, but were not occupants of the taxi that caused the accident.
He said that besides being poked with a firearm and being traumatized he escaped the ordeal without any physical injury.
"This thing like it was well planned," he said noting that the front of his vehicle is badly damaged. "I will not be daunted by this. I am thankful for life. I could have been a dead man," he said sadly recalling that he later went home and hugged his two daughters.
There have been several cases in the past where persons stopped on the Agricola public road and were either robbed or killed.
On November 5, 2008, Melissa Payne of Lot 56 Den Amstel, West Coast Demerara was shot dead by a lone gunman who relieved her of $100,000. She and her reputed husband John Fraser also known as David Fraser were forced to stop when the canter they were in encountered a mechanical problem. The incident occurred around 8 am in the midst of the heavy morning traffic.
That gunman has never been caught.
Around the Web