DHAKA, Bangladesh, CMC – Darren Sammy is expected to hold onto his job as West Indies captain despite a wretched World Cup where he failed to impress with either bat or ball.  Reporters here raised questions over Sammy's future in the position after West Indies bowed out of the World Cup with a humiliating loss to Pakistan at the quarter-final stage yesterday.
But the Windies head coach Ottis Gibson said he expected Sammy to be in charge heading into next month's Test series in the Caribbean against Pakistan.
"The captain didn't make the runs that he would have expected to make [but] I don't expect to see a change in leadership at all," Gibson assured.
"Anybody that understands the history of our cricket recently and how that decision was made, that decision was made based on the decisions that other people made so he ended up in that position.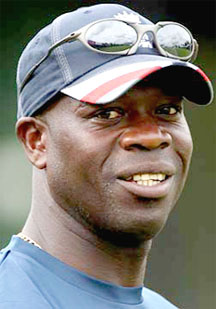 "He didn't set out to be captain but he had to be captain because of the circumstances and he's doing his best to lead the team. Of course he needs to perform and he hasn't performed in this tournament and he understands that."
Sammy, an all-rounder, mustered only 54 runs in six innings and got eight wickets at 25 apiece during the World Cup. He was appointed captain last October ahead of the Test tour of Sri Lanka and has turned in several mediocre performances since then, scoring just 82 runs and taking nine wickets from 10 innings.
Around the Web