The Rose Hall Town Gizmos and  Gadgets First Division and Pepsi Under-19 teams last Friday hosted their Teacher and Student-of-the-Term Awards Programme at the Port Mourant Secondary School.  According to a press release, the ceremony was first held last term which is the second of its kind and is part of a pilot programme by the two cricket teams of the Rose Hall Town Youth & Sports Club (RHTY&SC) to help lift the performances  of staff and students, and if successful it  would be extended to other schools.
Mahendra Algu was named Teacher-of-the-Year while Lisa Smartt was named Student-of-the-Year.
Secretary/CEO of the RHTY&SC,Foster congratulated both winners and urged them to maintain the high standards that resulted in their success. advised Smartt that discipline and hard work were the keys to success and education was the most important asset a person can have, the release noted.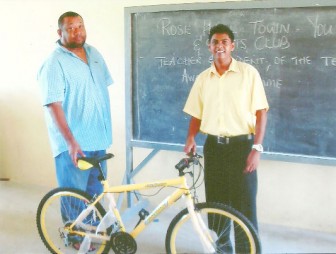 He urged the Teacher-of-the-Year to always be a role model to his students and to work harder to achieve more success. The long-serving cricket administrator pledged the RHTY&SC's continued assistance to the Port Mourant Secondary School and stated that the club and its cricket teams would always promote the importance of education.
Senior Mistress of the School, Gail Hooper expressed gratitude to the RHTY&SC and praised the club and its members for the outstanding work they have been doing for youths and sports development.
She urged her fellow teachers to accept Foster's challenge to always strive for excellence and pledged that the Port Mourant Secondary School will always be a role model for others. Algu received a bicycle from the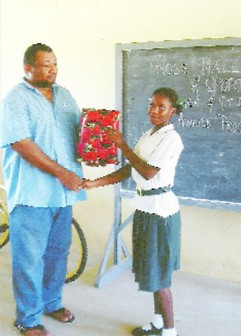 Rose Hall Town Gizmos & Gadgets teams while Smartt received a collection of education materials from the Pepsi Under-19.
Hooper and Amanda Ramdass who is another teacher of the school also received special gifts from the teams as rewards for their hard work during the current term.  Meanwhile, the next ceremony is scheduled for December 2011.
Around the Web