Led by two goals from Tyson McNaughton, Region Seven champions Waramadong Secondary yesterday secured an impressive 2-1 victory over Region 5 Champions, Ash Educational Institute in the latest zone playoff finals.
The win means that Waramadong advances to the national quarter-finals of the 2011 Digicel Schools football championship.
In very windy conditions on a slightly sub-standard turf at the Number 5 ground in West Berbice, Waramadong Secondary played with a very attacking 4-2-4 formation and Ash Educational Institute with the more conventional 4-4-2 system. Waramadong settled the quicker of the two sides as they had three wonderful opportunities in the first 20 minutes, only to be denied by the athleticism of  Ash Educational Institute (AEI) player of the day –  goalkeeper Raynel Frank.
But in the 28th minute when AEI star player King Archer fouled one of the Waramadong defenders in the 18-yard box and the referee awarded a penalty, they were set to go in front, only for McNaughton to waste that chance with a weak effort on goal.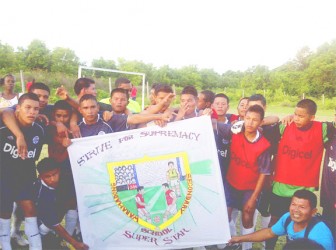 The second half of the 70-minute contest began with both keepers having to make multiple saves as visible tiredness caused the mid-field gaps to open up and both sides exploited it with pressing counter-attacking football. It was however Waramadong who made the 1st strike via a long ball over the top of the AEI defence from its 13-year-old goal-keeper Gerald Isaacs jr. It was latched onto by prowling striker McNaughton who made up for his early penalty miss and smashed home the opener in the 55th minute.
The home team AEI struck back almost immediately, as in the 58th minute another clumsy foul this time from the Waramadong defence, resulted in another penalty and AEI's goal-keeper bravely stepped up and buried a pressure-packed penalty to send the home fans into a crescendo of celebration.
In the last  12 minutes both teams were guilty of the cardinal football sins of defending too deep and absorbing too much pressure, but Waramadong eventually broke the deadlock. McNaughton in the 65th minute completed his double by taking advantage of a defensive error to score from a tight angle at the near post, sparking wild celebrations amongst the vocal Waramadong Secondary supporters who came in three busloads.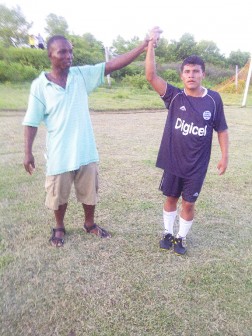 This victory takes Waramadong secondary into the national quarterfinals vs. Charity tomorrow in Essequibo.
Digicel Public Relations Manager Shonnet Moore at the end said "at this point of the competition our objectives are being met, as we are being able to bring to the spotlight talented teams and players from across Guyana. Both teams played well today, but their can only be one winner and my congratulations to the Waramadong Secondary side."
Around the Web