By Colin Benjamin
The third round of the West Indies Cricket Board (WICB) Regional Under 19 three-day competition bowls off today with three-matches.
The key third round encounter is undoubtedly  Guyana's matchup with Trinidad which is being tentatively hyped as the "Battle of the spinners", on what is expected to be a spinner friendly track at the Everest Cricket Club Ground from 10:00 hrs.
Guyana are going into this game in third place on 15.5 points, following their disappointing rain-affected no result match versus Jamaica at Bourda over the weekend.
They will simply be hoping that the weather is kind to them is this round, so that their spinners, which have so far taken 23 of 25 wickets of the teams wickets tally in the opening two rounds, can assert themselves on the boys from the twin island republic.
Middle order batsman Chanderpaul Hemraj also has a lot of personal incentive riding on his performances. During the rain-interrupted game versus Jamaica he was presented with a cricket bat, by the Aditya Kids Trust Foundation of West Coast Berbice. The executive of the foundation and renowned radio cricket commentator Inderjeet Persaud then threw the gauntlet towards the young batsman that if he scores his maiden hundred in this competition along with making the West Indies Under-19 at the conclusion of the tournament $US500 and complete cricket gears collection, will be his reward.
"I'm just hoping the weather is good at Everest and we get three full days of cricket. It was petty disheartening just sitting around not getting any meaningful play at Bourda, since we need the win. We also hope going forward that such rain interruption will not be trend of this year competition, given most of venues don't have the drainage capacity of the providence stadium," lamented Guyana Coach Hubert Evans.
Trinidad and Tobago, last year's runners up in the three-day competition and defending limited overs champions, will be chomping at the bit for this clash against the home side, coming of a morale boasting eight-wicket thumping versus struggling defending champions, the Windward Islands.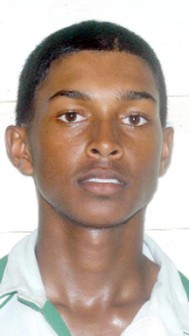 Trinidad manager Roland Sampath in speaking to Stabroek sport during his team's net sessions at the Providence Ground yesterday declared: "We are eagerly looking forward to this clash versus  Guyana, you can basically call it a "Battle of the spinners" given how dependant both our teams depend on spin to bowl teams out. The team is getting better as the tournament progresses, given that our first round defeat in my opinion was manly down to rustiness, given our preparation in Trinidad in coming here was severely affected by rain. So basically I'd be hoping that my trio of spinners, which include left-arm spinners Derone Davis, Jovan Ali and off-spinner Idress Mohammed can give the Guyanese a bit of their own medicine," said a confident Sampath.
In the other two matches which also bowl of today, tournament leaders Barbados, captained by recent West Indies debutant Kraigg Braithwaite, tackle Jamaica at the Enmore Community Centre, while defending champions the Windward Islands will be looking to recover from their two opening round defeats, when they face fellow Islanders – the Leewards at Bourda.
Guyana: Ronsford Beaton (captain), Kwame Crosse, Kevon Boodie, Kandasammy Surujnarine, Dominic Rikki, Chanderpaul Hemraj, Anthony Adams, Jamal La Fleur, Ricardo Adams, Linden Austin, Clinton Pestano, Amir Khan, Gudakesh Motie-Kanhai. Hubert Evans (Coach), Raymond Barton (Manager)
Trinidad and Tobago: Steven Katwaroo (captain), Saivon Lara, Kieron Joseph, Derone Davis, Duane Cockburn, Isian Rajah, Christan Herrera, Philton Williams, Rajiv Maraj, Jovan Ali, Idress Mohammed, Stephen Sooklal, Akeal Hosein, Emmanuel Lef. Tarandath Sammy (Coach), Roland Sampath (Manager)
Barbados: Kraigg Braithwaite (captain), Anthony Alleyne, Neil Browne, Jonthan Drakes, Justin Greaves, Chaim Holdder, Shai Hope, Jerome Jones, Kyle Mayers, Shane Parris, Ravindra Persaud, Mario Rampersaud, Amir Thomas, Chad Williams. Dexter Toppin (Coach), Livy Coppin (Manager).
Jamaica: Donovan Nelson (captain), John Campbell, Ramon Senior, James McDonald, Chrishna Graham, Bryan Gayle, Tajay Edwads, Oshane Walters, Marquno Midley, Rovmon Powell, Reswayne Ceary, Aldaine Thomas, Fabien Allen and Ragni Francis. Robert Samuels (Coach), Wavell Hinds (Manager)
Windward Islands: Kavem Hodge (captain), Sunil Ambris, Emmanuel Peter, Ray Jordan, Shaquille Brown, Terron Simon, Dwight Thomas, Bronte Bess, Jamaal James, Awen Edward, Larry Edward, Preston McSween, Keon George, Hollis Blair. Irvin Warrican (Coach)
Leeward Islands: Rahkeeem Cornwall (captain), Nino Henry, Elijah Peters, Wasim Mintos, Shaquille Martina, Chavil Archibald, Dymon Parris, Duan Webbe, Akeem Saunders, Larry Audain, Tristan Hanley, Daniel Doram, Raymel Adams, Cleon Reece. Winston Benjamin (Coach), Ronald Powell (Manager)
Around the Web