BIRMINGHAM, England, (Reuters) – Alastair Cook  stroked his 19th test century as England's ruthless batsmen  amassed 456 for three on the second day of the third test  against a weary-looking India yesterday.
The prolific opener was 182 not out at the close having  started the day on 27. Eoin Morgan was also unbeaten on 44 while   captain Andrew Strauss fell for 87 off a no-ball that was not  spotted, Kevin Pietersen made 63 and Ian Bell 34.
England sailed past India's first innings 224 to lead by 232  runs at Edgbaston. With three days remaining and seven wickets  in hand, the hosts are well placed to take an unassailable 3-0  lead in the four-match series.
Cook moved ahead of David Gower, Michael Vaughan and  Pietersen in the list of test centurions and is now level with  Strauss and Len Hutton, with only five Englishmen in front of  the trio.
"It's always nice to score runs and especially pleasing when  you haven't scored in the last two tests," Cook told reporters.  "It's been frustrating not getting through that new ball and it  was important that when I did I made it count.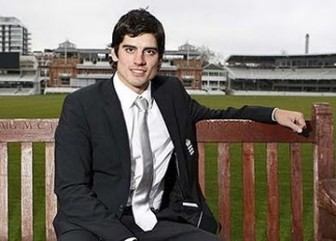 "I did a bit of work last week to get myself into better  positions as I might have been falling over slightly but the  conditions in the last couple of tests have been very tough."
The left hander batted for more than eight hours and faced  339 deliveries to extend a purple patch that now contains seven  centuries in his last 13 tests.
It has been a chanceless innings albeit with a few  boundaries off Cook's edge.
India's bowling was ineffective, lacking the control to halt  England's free scoring plus penetration on a pitch that has  become increasingly easy to bat on.
The fielding also disappointed with Rahul Dravid dropping  Bell on 30 at first slip off Shanthakumaran Sreesanth, who later  spilled an easy catch at point off Ishant Sharma's bowling when  Morgan was on 17.
Dravid also dropped Morgan on 43 off Suresh Raina, another  simple chance.
The ease of England's run spree was demonstrated by the  normally cautious Cook, who reverse-swept Amit Mishra for three  just after lunch.
FLUENT STRAUSS   
Strauss's fluent innings lasted 176 deliveries and he fell  when he tried to sweep Mishra only to deflect the ball off his  pad and on to the leg stump.
The England skipper was seeking his first test century at  home in two years but Mishra had over-stepped the crease and  Australian umpire Simon Taufel did not notice.
Strauss and Cook put on 186 for the first wicket, their  fourth highest partnership.
Cook went to three figures with a single to mid-wicket,  reaching the milestone from 213 balls. He later raised his 150  with a thumping pull shot off Sreesanth.
The only other successes for India were the wickets of Bell,  bowled by Praveen Kumar with a delivery that swung away and  knocked over his off stump, and Pietersen who looked in  ominously good form during his 78-ball stay.
Pietersen stepped across his stumps to Kumar and was hit on  the pads. Umpire Steve Davis raised his finger and the batsman  stood his ground in disbelief for almost 10 seconds before  appearing to glare at the official as he walked off.
More bad news for India came when the odd delivery from  Mishra and Raina turned prodigiously in the evening session — a  sight that would certainly encourage England off spinner Graeme  Swann.
"There will be days when you will be out cheaply but when  you are in you make it count, that's what Cook did," said  India's opening batsman Gautam Gambhir. "He made the most of it.
"That's where we have been lacking, we haven't been able to  convert. We are under a lot of pressure."
England will go to number one in the world rankings if they  win here.
Scoreboard
India first innings 224
(MS Dhoni 77; S. Broad 4-53, T.  Bresnan 4-62)       
England first innings (overnight 84-0)
A. Strauss b Mishra                                                87
A. Cook not out                                                     182
I. Bell b Kumar                                                        34
K. Pietersen lbw b Kumar                                   63
E. Morgan not out                                                  44
Extras (lb-26, b-7, nb-12, w-1)                         46
Total (three wickets, 115 overs)                 456
Fall of wickets: 1-186 2-252 3-374
To bat: R. Bopara, M. Prior, T. Bresnan, S. Broad, G. Swann,  J. Anderson.
Bowling (to date): Praveen Kumar 32-12-75-2, Sreesanth  22-4-103-0(4nb), Ishant Sharma 25-6-112-0 (1w), Mishra  26-2-100-1 (8nb), Raina 9-0-30-0, Tendulkar 1-0-3-0
Around the Web