Team Guyana ended in fourth position after collecting 15 medals when the Goodwill Swim Meet came to a close yesterday in Trinidad and Tobago.
Guyana's eight-member team managed to bag four gold, six silver and five bronze medals at the end of the meet.
Despite the medals Guyana ended in the cellar position of the regional four-nation meet. Defending champions, Suriname, managed to retain its title while in a repeat of last year's results, Trinidad placed second and Barbados third.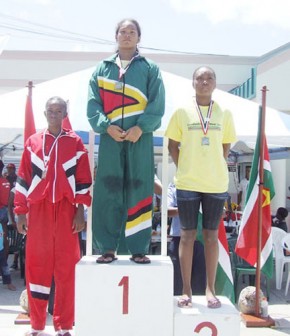 Of the 15 medals, six were won by Guyana's junior swimming star Britany van Lange, who put together three gold, two silver and one bronze medals in addition to setting two Goodwill records and ending in second position overall in her age category.
The multiple Goodwill gold medalist opened her performance at the meet on Friday by achieving a gold medal in the 200m freestyle where her personal best, record-breaking 2:12.97s was enough to outclass Suriname's Kiran Singh's 2:18.64s.
It was another record-breaking performance for van Lange on Saturday when she set the new Goodwill Games girls' 13 – 14 100m freestyle record of 1:01.46s for her second gold medal. Suriname took the second and third place in the event compliments of Gabrielle Breidel (1:03.87s) and Singh (1:04.08s).
Singh got the better of van Lange in the 200m individual medley (IM), where van Lange's personal best 2:39.48s was not enough to surpass Singh's 2:37.99s gold medal performance Van Lange earned another silver medal on Saturday in the 50m breaststroke where, in another personal best performance, her 33.81 seconds was surpassed only by Trinidad's Hadassah Morales' 33.32 seconds.
Third place for the event went to Guyana's Soroya Simmons who clocked 33.83 seconds.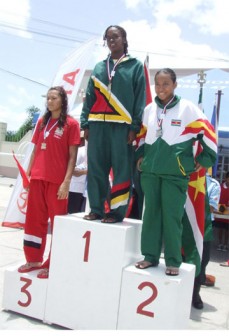 As the meet winded down to a close, van Lange gave  another gold medal performance in the 50m freestyle and ended with a bronze in the 100m backstroke event, with Simmons taking the silver medal.
Van Lange also participated in the 100m butterfly event where she attained a personal best time of 1:14.09s, for fourth place in the race that was won by Morales in 1:11.42s.
Following behind van Lange in the list of medal achievers was Noelle Smith who ended with one gold and four silver medals.
The 2010 age-group champion was also unable to defend her title in the 15 – 17 age group as her points were only enough for second place.
Smith started with a silver in the 50m breaststroke, on Friday, before following up with two silver medals and a bronze on Saturday.
She ended the meet on a high with a gold medal in the 100m breaststroke where she clocked 1:23.57s.
On Saturday her silver medals came from her 50m and 100m butterfly races.
Also on the medal podium on Friday were Athena Gaskin and Ronaldo Rodrigues, both of whom won bronze medals. Swimming her first year in the girls' 15 – 17 category Gaskin got her bronze in the 200m freestyle event, while Rodrigues, who swam in the boys' 15 – 17 category, got his in the 50m breaststroke.
Another bronze medal was churned out by Soroya Simmons in the girls' 13 – 14 50m backstroke. (Tamica Garnett)
Around the Web