LONDON, (Reuters) – As a signal that England were no  longer prepared to tolerate physical and mental flabbiness, Ian  Bell was told to go away and toughen up after his side were  bowled out for 51 by West Indies in February, 2009.   
Two and a half years later, Bell is top of the year's run  scoring table with an average in excess of 100 and England are  top of the world rankings after successive Ashes series wins and  a 4-0 demolition of India.   
"Physically I worked hard at my game, mentally I think I got  a bit stronger," Bell said yesterday after scoring 235 in  England's innings win over India in the fourth test.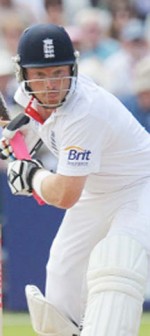 Bell and England will now prepare for fresh challenges with  three tests against Pakistan in the United Arab Emirates in  January followed by two tests in Sri Lanka in March.   
Under the guidance of team director, the former Zimbabwe  skipper Andy Flower, and captain Andrew Strauss there is no  danger of any complacency seeping into a rigorously professional  England structure.   
"We are going to be judged by higher standards now. We need  to keep pushing ourselves to improve and get better. We have got  some very stern challenges ahead, in the subcontinent that's an  area of the world that we still need to improve in, it's going  to be a good challenge for us there," Strauss told a news  conference.   
"Firstly winning away from home is always more difficult, we  should be competitive in our conditions again anyone in the  world. Away from home is harder, so we are going to have to  challenge ourselves to improve away from home.   
    
BOWLERS  DOMINATE   
"And then it is about maintaining standards and maintaining  improvements and being consistent. We have improved that a lot  in the last 12 or 18 months, we need to improve that over the  next year or so."
  
The ascent from the ignominy of Kingston to the euphoria of  the Oval over a team who arrived in England at the top of the  world rankings was plotted by Strauss and Flower after the  latter took charge of his adopted country following the series  loss in West Indies.  
 
"The greatest pitfall is feeling like you have done it all  and therefore you are not willing to put in the hard work to  continue it. I would be very disappointed if our side fell into  that trap," Strauss said.   
England scored a mountain of runs against an manifestly  inadequate attack after first Zaheer Khan and then Harbhajan  Singh were injured.  
The basis of their success was their bowlers' ability to  demoralise the most prolific batting order in test history who  managed only three centuries, each to their supreme technician  Rahul Dravid.   
"I think if you look at lot of the sides we have played over  the last couple of years some very good batsmen have struggled,  I think a gradual erosion in their confidence and a gradual  increase in our confidence has been the difference between the  sides," Strauss said.   
"Big victories have come on top of outstanding bowling  performances. It's very different out there, the heat and the  humidity and all that sort of stuff and we have to keep  improving our skills both in how we are looking to take wickets   but also our ability to bat for very long periods."   
Around the Web