Wild Bunch dominoes team ran out winners of the recent
Jeet Brothers sponsored three way dominoes tournament involving International 6 and Canal 6 at Canal No. 1.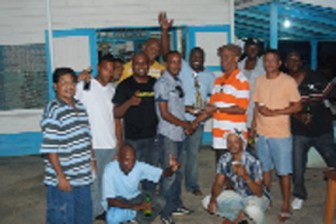 The match was sponsored by the Jeet brothers, Bazil, Rico and Boogie of Richmond Hill, United States of America.
In the third and final round of the aggregate series,  Canal Six emerged winners with 81 games followed by Wild Bunch with 74 games and International 6 on 72.
However, when the scores were tallied, Wild Bunch ran out winners.  The final points standings were Wild Bunch with 228 games, International 6 225 games and Canal who made a remarkable comeback on 224 games. The winning trophy was awarded by overseas-based Guyanese and former Guyana Chronicle sports reporter, Frederick Halley on behalf of the Jeet Brothers.William Hardy was the recipient of a cap for sharing the first love. R. Sukhai, Jermain Taylor and Intikab Ali were adjudged the best players on each team with each player receiving a wrist watch.
Around the Web