Georgetown Cricket Association President Roger Harper yesterday highlighted the importance of the long-format of cricket in the development of young players when the Noble House Seafoods-sponsored 2011 GCA two-day competition was launched at Malteenoes Sports Club, Thomas Lands.
Speaking at the simple ceremony, Harper noted that the Twenty20 format was grabbing the attention of the developing players. "The long-format is the bedrock on which cricket is built, individually and as a cricket nation. Young batsmen need to perfect the art of building an innings and young bowlers whether fast or spin in turn need to learn to bowl long spells efficiently and work batsmen out. So hopefully this tournament will go a long way in aiding the participating players in inculcating such skills," said Harper.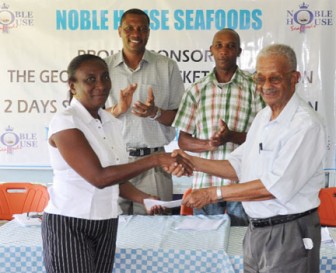 Noble House Seafood representative Piercy Corlette noted that the company has been associated with cricket for a long time and wished the competition and the players involved much success in this year's tournament.
Following on the GCA's recent Queensway-Cup 50 overs competition, emphasis on the development of fast-bowlers continues. This two-day competition will see the pace-bowlers on all sides being required to bowl at least 25 per cent or a quarter of the overs bowled in any innings that exceeds 20 overs.
GCA Competitions Committee Chairman Shaun Massiah stated that because of the size of the grounds at Muslim Youth Organisation, Guyana National Industrial Corporation and Gandhi Youth Organisation (GYO), sixes will now only be allowed when the ball is hit over the straight boundaries at these venues.
For the purpose of definition, the straight boundaries are the boundaries running north to south on each of these grounds. However, balls hit to the side (east to west), whether to the fence or over the fence, shall be given as fours.
Meanwhile, stringent penalties will be applied against any team that:
* litters the match venue;
* leaves the dressing room dirty and untidy;
* has players improperly dressed on the field;
* has players who display in-disciplined behaviour;
* has players who show dissent to umpiring decisions;
* has players, coaches or managers who show dissent or heckle umpires from off the field.
All the players involved must be registered and teams must hand in lists to the GCA Competitions Committee today.
The tournament will see play by 14 teams divided into two groups and at the end of the competition the winner of each group will contest the final. Action begins tomorrow with two games: Malteenoes versus GYO at GYO ground and University of Guyana (UG) against Transport at UG ground.
GCA Secretary Deborah Mc Nichol chaired the proceedings.
Around the Web