By Emmerson Campbell
Guyana's middleweight champion Howard 'Battersea Bomber' Eastman and Edmund DeClou will headline the Guyana Boxing Board of Control (GBBC) card dubbed the 'Thirst Park Explosion' scheduled to be held at Thirst Park ground, Ruimveldt on October 29.
The 12-round bout became official at the contract signing at the Abdool and Abdool office on Avenue of the Republic yesterday.
The 24-year-old Declou has a record of seven wins, two losses and one draw and he will be looking to create an upset and become a household name in Guyana.
The pugilist from the mining town will also be looking to maintain his unbeaten streak for 2011.
Declou, who has fought undefeated on five occasions for the year,  will face stiff competition from the more experienced Eastman.
This year DeClou fought Winston Pompey to a draw in January, gained a split decision victory in their return bout in May and had unanimous victories  against Everesly Browne and Patrick Boston in March and  April respectively. His most recent win was another unanimous decision victory against Joel McRae in July.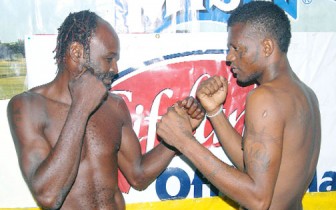 The 40-year-old Eastman, who is battle tested, has an impressive record of 54 fights, 46 wins and eight losses with 36 of those wins coming by way of knockouts.
However, Eastman, whose last two fights have been losses, will be looking to get back on track and resurrect his career.
Eastman lost a four-round unanimous decision to Kwesi 'Lightning Struck Assassin' Jones in September last year and an eight-round TKO loss to Kirt 'The Technician" Sinnette in July.
In interviews with Stabroek sport, DeClou said that his focus was to remain unbeaten for the year and capture the middleweight title. DeClou said that he respects the 'Battersea Bomber' and it will be an honour to step in the ring with a boxer of Eastman's class but added  that he intends to 'handle his business'.
Eastman said he respects the fact that Declou, as a young boxer, was paying homage to him.
The Berbician said he is happy to be defending his title to get his career back  on track. Eastman said  that he intends to teach the Linden warrior a boxing lesson adding that he will come out the victor.
Also at the contract signing was Pauline London, who promised fireworks in her upcoming WIBA heavyweight World title bout against Guyana's first female world champion Gwendolyn 'The Stealth Bomber' O'Neil.
London said she was training hard for the 10-round encounter and promised to knock out O'Neil, a boast that went unanswered because of the absence of O'Neil.
The card will also see Jermaine 'Star Boy' King coming up against Mark Austin in a six-round welterweight contest.
King will be looking to avenge a loss he sustained to Austin in January. Coming off an impressive showing in his drawn bout against the undefeated Miguel Antoine last month, King should be full of confidence.
"I am training hard for this fight; I was awaiting the opportunity to avenge my loss a long time now. This time around Austin will not be around for the final bell," King prophesied.
Austin, who said he has been on the shelf for a while, thanked the GBBC for putting him on the card.
"The people's choice is back!" Austin said.
"Even though I have been inactive in the ring I have been training three times a day, I will do what I have to do despite if there is a little ring rust. I've beaten King before and I will beat King again," he declared.
King has a record of three losses and one draw while Austin's record reads six wins, two losses and a draw.
Also on the card will be Mr. Chin Checker, Simeon 'Candy Man' Hardy. The undefeated knockout specialist will come up against St. Vincent-born, Barbadian-based Julian 'Thunder' Tanniss in a six-round light middleweight fight.
Iwan Azore, who has a record of four wins, four losses and two draws will match gloves with Troy Lewis in an eight-round catchweight fight. Lewis has a record of four wins, 11 losses and one draw
In another female bout, Mandessa Moses will come against Venezuelan Anys Cedillo in a six-round, featherweight contest. Moses has a record of six wins and one loss while Cedillo has two wins and two losses in her career.
Notably present at the signing was former WBC cruiserweight champion Wayne 'Big Truck' Braithwaite who mentioned that he will soon be returning to the ring.
Also at the contract signing were GBBC president Peter Abdool and GBBC executive member Eon Jardine.
Sponsors of the event include Digicel, Giftland Office Max, Courts, Banks DIH Limited, NCN and Ansa McCal.
Admission for ring side is $2500 while regular seats costs $ 1500 Bell time is 20: 00 hrs.
Around the Web