By Iva Wharton
Newly crowned 2011 Junior Chess Champion Hifeng–Su (Suhai Feng) said he feels on top of his game after winning the championship.
Su, a 16-year-old, Sixth Form student of Queen's College said he has come a far way from just pushing pawns and pieces. 
It has been a ride from virtual unknown to budding Chess star for Su who endured the indignity of losing by way of the popular four-move mate in his early days.
"I started playing serious chess 18 months ago but I knew how to move the pieces when I was in Form Three.
"People started to play me because they knew I could not play chess, so they picked on me and gave me the four-move chess mate and stuff," he told this newspaper in an exclusive interview.
According to Su, he was introduced to the game at the competitive level by good friend and fellow chess player Rashad Hussain.
The two met close to four years ago at the Global Technology learning institution.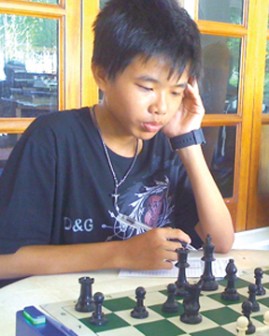 At that time Su was attending North Georgetown Secondary School and Hussain, Queen's College.
"When I found out that he played chess we started playing together and that is when I started playing chess seriously," Su revealed.
His first tournament was one hosted by the Royal Chess Academy (RCA) which he attended with Hussain.
Su said he did not do well but still soldiered on.
Soon afterwards, he started attending tournaments organised by the Guyana Chess Federation (GCF) and the rest, as they say, is now history.
Su finished fourth in the first tournament he competed in under the auspices of the GFC, but said that was because he missed a round.
He said his first two wins he said were recorded last year at a Rapid Chess Tournament in Berbice which was followed by the Inter Schools tournament where he began his rise to prominence.
"I never got a Best Beginners' Trophy even though I started at the Beginners' Level and developed but other players got it, he said laughing.
Su said that he is not too bothered by that as he has his sights set on bigger prizes.
At his first senior tournament last year, Su said he defeated some of the better chess players a feat of which he was immensely proud.
Among those who fell at his hands were then President and Vice President of the GCF, Errol Tiwari and Shiv Nandalall, respectively.
"That is the first time I was really recognized on the news," he said.
To date, Su has won a total of four tournaments, which he said, are confidence boosters.
According to him, he plans to go as far as he can in the sport although his immediate goals are to the win the senior national championships, Inter Schools and attend the UMADA Cup tournament in Barbados.
His first international tournament was the Inter Guiana Games Championship last year where he secured a win against a player from French Guiana and drew the other game with Surinamese Gavin Ooft, who was the highest rated player in that championship.
This year Su said he would not be pursuing individual glory at the Inter Schools championship.
Asked whether his Chess career has impacted on his fellow students at QC, Su said yes. "I think I have influenced most of the students in my class because they see that I am the Chess champion, they want to play me more," he declared.
Su said some players who had dropped the sport are now playing again and they are also in the process of restarting the school's Chess Club.
He said playing the sport does not take away from his studies but it helps him with Mathematics where he is better able to analyze problems.
Asked what was the lowest point of his Chess career, Su said it was reading in the newspapers that he was expelled from the Guyana Chess Federation (GCF) where he is a member.
Su said it had an impact on him mentally and also it damaged his image. According to him, it was very difficult having to answer question on the expulsion.
"I told them I get kick out from the committee and not the federation."
"They tell me that I worked so hard and now you get kicked out, what you going to do and all sorts of stuff."
Su related that he was told at the meeting:"You are kicked out of the committee, but being humane we will let you sit in this meeting."
He did not want to disclose who told him that, but confirmed that he missed three meetings, although, he said, he had legitimate reasons.
"I had classes and different stuff that I was busy with during the meetings, so it was not a right time for me to attend," he said.
Those excuses, he said, were relayed to his friend Rashad Hussain, who told this publication that he had passed on the information to the GCF executive.
That scenario, he said, is behind him as he has moved on. He is now focussed on achieving the goals he has set for himself.
Su, a native of China, said that he came to Guyana 10  years ago with his parents and four older sisters.
He said that during his Chess career and the problems he has encountered, his family and friends have remained his support base.
Around the Web