Hikers and national livewire Robert France aided in a fitting opening to the seventh Diamond Mineral Water International Hockey Festival at the National Gymnasium yesterday when his team cooled down Supernova 12-1.
Playing in the Men's Open competition of the tournament, France led the rout with seven goals, scoring four in the first half as Hikers closed the first half 7-0. His team's structured play and neat stick work resulted in the side controlling the pace of the game, breaching the Supernova defence with relative ease.
Jerazeno Bell opened the scoring for the Hikers in the 5th minute and scored again in the 30th while Randy Hope chipped in with goals in the 32nd and 13th minutes. Osafa Timmerman scored the consolation goal for Supernova in the 27th minute.
France, speaking on his performance, said that it felt good to go out there for his team and play well. He said that the competition was nothing that he was unaccustomed to and he will be welcoming the overseas competitors from Barbados and Trinidad & Tobago.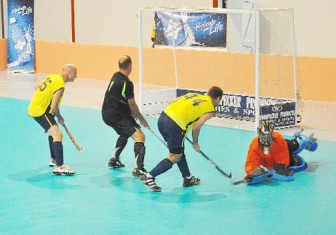 Flora Georgetown Cricket Club (GCC) also recorded an easy victory in the Women's competition over Hikers. The GCC ladies beat Hikers 5-0 with Dominique De Groot (13th and 16th minutes) and Gabriella Xavier (1st and 37th minutes) netting doubles while Marzena Fiedtkou scored in the 32nd minute.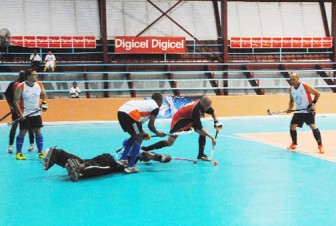 When the Veterans took to the floor the GCC and Old Fort renewed their rivalry with a close and intense battle. Comprised of former national players on both rosters, both sides' players brought to the fore the skills of yesteryear,
especially with the stick.
Wayne St. Jules, who scored both goals for his team, drew first blood for Old Fort but Alan Fernandes brought the score back on par in the 16th minute. St. Jules put his team back in the lead again in the 18th minute before Fernandes scored on the stroke of half time in the 20th minute.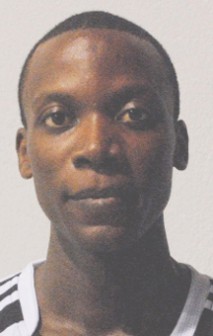 In the second half both sides were aggressive but Fernandes broke the deadlock in the 23rd minute. This aggression also resulted in GCC's Devin Hooper picking up a yellow card in the 28th minute.
Meanwhile up to press time the seven matches scheduled had not been completed. The competition continues today with 12 games from 10:00 hours.
Caption: The Veterans tussle for control of the ball during their match yesterday at the National Gymnasium. (Aubrey Crawford photo)
Around the Web