Victoria Kings Football Team yesterday received their winners cheque of  $250,000 for being victorious in the just-concluded East Coast Football senior league sponsored by Mackeson at Ansa McAl's headquarters on the East Coast. Victoria ended on 33 points to finish at the  top of the table of the eight-team tournament to pick up the number one spot while Buxton Stars finished second on 29 points, receiving a cheque for $175,000.
Beterverwagting (BV) finished on 28 points edging Buxton United by a goal difference for third as Buxton United also ended the tournament on 28 points. BV scored 18 goals which guaranteed them a third place cheque of $100,000 while Buxton United scored 17 goals to end with a cheque for $70,000.
Victoria registered a record of 10 wins, three draws and one loss while they scored 40 goals, conceding only four.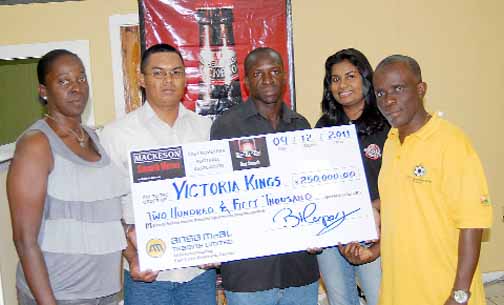 The tournament  spanned 56 games with 150 goals being scored and Winston Pompey registered the most goals with 14. Captain of Victoria Kings Samuel Blackett thanked  Mackeson for the success of the tournament. "It was a total team effort, we worked hard as a unit so that we can be successful and we would like to thank God for helping us through along with Mackeson for putting together such a tournament," Blackett stated at the presentation.
Public Relations Officer (PRO) of Ansa McAl, Darshanie Yussuf concluded the presentation by stating that "Ansa Mc Al love sports and we will give back to the community we represent and once you show us the interest in sport we are able to match the best offer," she declared.a
Meanwhile, according to secretary of the East Coast Football Association, Sharon Abrams, the football season for the association has ended but  their 2012 season will kick-off with the Mackeson Sweet Sixteen tournament in March, providing that the situation with the Georgetown association is cleared up.
Around the Web