At 72, Guyana's best known panist Roy Geddes is still as passionate about steel pan music as he was when he was just 14 years old and developed a liking for the music form that originated in Trinidad & Tobago.
Geddes, who founded the Roy Geddes Silvertones Orchestra, is a man who can be aptly described as coming from the 'old school'. He does not compromise on his position of hard work then success.
To say that he is a disciplined individual is an understatement. The steel pan icon revealed that without discipline a person cannot be truly successful. He is rankled by the attitude of youths–especially those of African descent–whom he feels are focused on success but not committed to the process of getting there.
In a recent interview with the Sunday Stabroek the steel pan magician spoke of his hurt over the present state of the art form in Guyana. While he is proud of the more than 50 years he has given to pan music he told the newspaper great pride that it could not have happened without his wife Pamela standing behind him.
He has now turned his Roxanne Burnham Gardens home into a museum. He has many steel pans he would have made on display coupled with countless photographs recording his many years in the field, but Geddes' flower garden is an equal attraction. It was that garden which is a source of great pride to him and wife he was tending when he was attacked recently and robbed of his gold chain.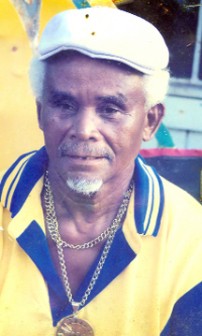 And it's not just the flowers, pans, photographs, colourful lights and various other objects that make his museum interesting but the many proverbs he has written in every available space–all of which talk about discipline and hard work—that tell an interesting tale about the man himself.
A jovial man–still smarting from being gun butted by the bandit who robbed him–Geddes shared with this newspaper his journey in pan world and how he craves for it one day to be a respectable art form. Even though his band is no more Geddes is still playing his part through the teaching of youths at his school (paid for by the Ministry of Culture, Youth & Sport) and telling its rich history to those who tour his museum.
'Mission in pan'
Geddes has dedicated some 58 years of his life to pan music and he said his mission is to bring about respectability and the commercialisation of the art form.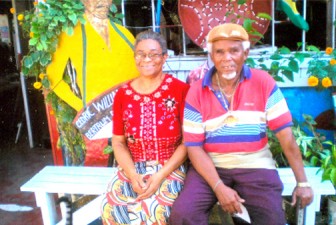 He recalled that he was born in a poor environment in Leopold Street, which he described as "ghetto", and came from a single parent home.
"When I say ghetto, I don't mean immorality I mean in a sense of economics; our parents were poor," he clarified.
He was forced to leave school very early to assist with the financial upkeep of his family and disclosed that even before he was out of school he was working at a blacksmith's shop.
It could be the many tools he dealt with while working in this trade that pushed him into the world of pan but Geddes explained that he was "actually bombarded by steel pan" in his neighbourhood with the many popular bands.
"But working at the blacksmith was indeed a blessing in disguise because when I got to steel pan I had already known about the hammers and the chisels. And that helped me with sounds…" he admitted.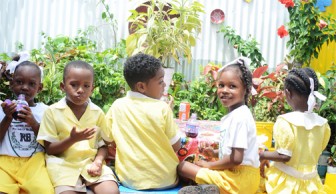 In those days, the bands used to tramp down the streets around Christmas time and Geddes recalled with a chuckle that his involvement was actually collecting money for a band as its members tramped.
He was just about 14 years old then.
He learnt the art form from just being around the band members and eventually he became a member of the Casablanca Steel Orchestra and a band member named Lloyd Solomon gave him the needed encouragement.
As he learned the art form, he continued  to work with the blacksmith for nine shillings a week; seven of which went to his mother. So he also worked at a sawmill in the area to "get something more".
Through the years he played in several other bands until 1964 when he formed his own band—Silvertones—along with the now deceased Freddie Massey.
"You know when I got involved in steel pan I said to myself I wanted it to be my profession. I had that dream, that vision I know what you had to do; you had to be very serious," he said.
'Disciplined'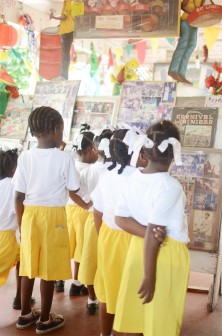 He does not use the word committed to describe how "serious" he was and still is about pan music, as, according to him, people can be "committed and not disciplined."
He gave the examples of the late great singer Whitney Houston and great boxer Mike Tyson as persons who were committed to being the best but not disciplined enough to remain at the top.
Discipline is what he preached to his band members and many times that did not make him any friends.
Initially when the band was formed, it carried the names of the sponsors and even though band members worked very hard to establish the band they were "given very little by the sponsors and they expected much". Often, the sponsors were given the recognition and not the band, and this did not sit well with Geddes.
"It was exploitation," he said sadly and because of this, he eventually established his very own band free of sponsors and named it Roy Geddes Silvertones Orchestra.
Geddes said all he needed was some strong committed members who "would adhere to rules and have the courage to stick around because I am not easy to deal with.
"Anybody who is a disciplinarian or who wants to see development they don't have friends. I don't mean you don't leave space for people making mistakes, but persons must be disciplined."
No one man can be a band, he told the Sunday Stabroek saying that there is need for balance by individuals and in the end he did find a group of youngsters with whom he stuck and who stuck by him.
While many of his band members came from depressed areas, Geddes said that was no excuse for them not to work hard to achieve since he came from the same background but never allowed that to prevent him from being the best at what he loves.
It was the discipline he instilled in his band members that saw the band being in demand in its heyday and being respected. Over the years the band had contracts at the Pegasus, Tower and played all events. On Old Year's Nights the band had to be split in two because of the demand.
Around that same time the school was opened and Geddes recalled that children as young as nine years old would play at the Pegasus even though he had some difficulty keeping them awake at times.
"We use to practice all the time, as I said I am not easy to deal with. I know my role as a leader I got to keep talking to people," he said admitting that at times he did behave a little "erratic and show frustration".
'Tower of strength'
Geddes did not just encourage his band members to be committed to the music, but also to be responsible by opening bank books and "throwing box hand to achieve certain things." He also encouraged those who were in relationships to get married and offered his residence to be used for the ceremony; many accepted. He felt that would have also helped to keep the band together and they would have grown from strength to strength.
After 45 years of marriage, Geddes said, he is proud that he is still with his wife and though the union produced no children they have always been very committed to each other and without her support he could not have been successful. Geddes said he had three children before they were married.
"She is what the bible talks about in terms of being a real woman. She is industrious," he said of the woman he met at a party and whom he knew right away would have become his wife.
He described his wife as being a "tower of strength" who in the past made all the uniforms for the band members. She is the academic in the union, and she is "an excellent cook".
"We invite tourists from all over the world to come here and I would show you the guest book: they have said her food is the best food they eat in Guyana," he said proudly.
'Fatigue'
Geddes said his band was not just about the money but it was also about the development of people, but he couldn't "tek the fatigue anymore." Sadly, with him aging, Geddes said, the band was disbanded as many players could not live up to the standard he had set.
"Some people speak about priority and they could spell priority but those are the ones who does get their priorities mixed up. They could spell punctuality but they always late," he said.
He continues to give back through the ministry-sponsored programme, but says though the classes are free children do not want to go because they are not disciplined.
"Who wants to come, come and who wants to stay, stay," he said sadly.
He said the young people of today are not disciplined and many have no respect for the law or anyone. He feels there are too many single parents. Mothers, he said, cannot be father and mother; both parents are needed in the home for the children.
Geddes is sad at the state of the art form in today's society as he said the commitment is not there, adding that persons cannot just have 20 or 50 songs and call what they have a band. His band practised over 500 songs, he said, and could have played at any function without difficulty.
He said there must be a wide variety of music covering not only the ones that are easy but also classical and Latin music and folksongs among others. He said such standards are no more and instead mediocrity has taken over.
"The dedication and the love is not there for the art form like before, right now some pan players feel one man playing pan that is good [but] that is a bad image for steel pan," he said.
When he talks, Geddes said, he is condemned and sometimes labelled as "old", but he said young people are comfortable with "mediocrity because they have a lazy spirit." He said many take critiques personally instead of trying to better themselves. Geddes also makes and tunes steel pans and at one time had travelled to Tanzania through the Government of Guyana to assist in the development of pan music in that country.
He and Pamela have been living at their present home since 1971. Most of his days are now spent tuning the pans and working in his garden. He was gardening when he was robbed recently but Geddes said his was not "really a robbery alone" as it was used to get at "me and what I stand for".
But "I am proud to say that over my years, my 58 years of steel pan, I have never done anything to bring shame and disgrace on this beautiful art form," the master pan player said.
Around the Web