Story and photos by David Pappanah
Of Guyana's six towns Rose Hall is the smallest. Situated on the Corentyne coast 14 miles from New Amsterdam with the Portuguese Quarter to the east and Hampshire to the west, it was the fifth village in the country to gain the status of a town in 1970. It had first been designated a village in 1908. Rose Hall Town is home to 17,000 inhabitants, covers 5.1 square miles in area and now comprises three sections: Middle, East and Williamsburg. Originally with a predominantly African-Guyanese population, it has since become a multi-ethnic location.
H P Benn was the first mayor of town while the legendary electrician, William Hendrax, was the last one before Rose Hall was placed under an Interim Management Committee in 2005.
Residents described their town as "convenient," because all the stores and businesses are located on the Public Road, and they do not have to go to different areas when they are shopping. The town is the home to clothing stores, pharmacies, general merchandising outlets, two banks, a number of bars, cafés and restaurants, a police station, a post office, a fire station and most recently, a mini-mall which houses the fast food outlets Church's and Mario's.  Long ago Rose Hall also had a cinema.
There is too the Rose Hall Town market, where residents can access fresh produce, although on Saturdays the biggest market in Berbice is the one at Port Mourant.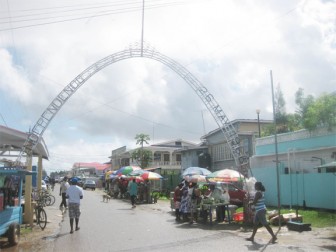 The largest enterprise in the area is the Crown Spot lemonade factory which is a family-owned business that has been around since the 1950s. Persaud Jaijairam started making lemonade on a small scale and used to sell the thirst-quencher on his bicycle, but as the years went by the business evolved until now the product is sold throughout Berbice. The company has been passed on to Charles Jaijairam, who now manages it with help from his sons.
As a partly urbanised area, there is a far greater variety of occupations available for residents than is the case in a small village, ranging from professionals to tradesmen, fishermen and unskilled workers.
Most children attend the Rose Hall Town nursery and primary schools, while those of secondary age go to the Lower Corentyne Secondary School, once called the Belvedere Government Secondary School. As befits a multi-faith community, Rose Hall has places of worship for the three main religious groups, of which the Scots church and the Nazarene church are the oldest.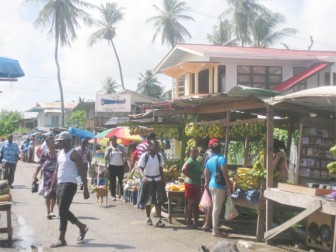 Where NGOs are concerned, the town is the base of the St Francis Community Developers, which is managed by Alex Foster, and is said to be the most recognized one in the region. The Rose Hall Town Youth and Sports Club was founded by the St Francis Community Developers, and has produced some of Guyana's top cricketers, such as Assad Fudadin, the Crandon brothers, Andre Percival, Shemaine Campbell and Erva Giddings, just to name a few. Managed by Hilbert and Keith Foster, the Club recently received an award from the Olympic Committee for Sports in Guyana.
In the afternoons the square where the Independence Arch can be found is one of the locations where youths congregate to relax. In the afternoons too, a group of men can be seen at the corner of Independence Avenue playing dominos. Another popular spot for socialising and 'liming', that attracts all age groups is the Lazy Hall. Rose Hall used to have a beach, but now it has been taken over by sling mud. Nevertheless, there were still some youngsters hanging out there on a Sunday afternoon when this newspaper visited.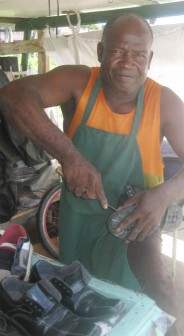 According to residents, Rose Hall Town is frozen when it comes to development. Yonette Clarke said she has been living there for forty years, and described it as a very quiet town. However, she said, it needed to be developed a lot more, and required a proper drainage system and garbage collection arrangements. When it comes to crime there's not much, she said, although during the busy season there might be one or two chain-snatchers. She went on to say that some parts of the town are poverty stricken and there are many school dropouts. When asked what the town was like years ago she replied that neighbours used to agree with one another, but now people had changed; they wanted to sell everything even including a dry coconut, when long ago you could ask for one and you would be given five.Stabroek News subsequently caught up with Norman Brush, one of the town's shoemakers. Brush described Rose Hall as a very relaxing town and quiet, and said that people came from all parts of the country and were able to make a living there. Rose Hall Town used to be a farming community, he explained, but now the land is inhabited by bushes; the younger generation did not want to farm, they want to find everything on the road.  Like Clarke, Brush is also concerned about garbage disposal. He said that some residents do not have respect for the environment or for authority.
He used to work for Bata's shoe store, but now he plies his trade on his own, describing it as  profitable. Youngsters who have nothing to do, he suggested, should learn the trade since it is an everyday trade.
One of the barbers in Rose Hall, Keon Earle, said that the town needs a lot of jobs for the young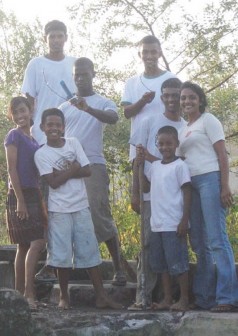 people who have just left school. The council does nothing for the town, he complained; they just take the rates and taxes. In his view there needs to be more recreational activities, because it is just boring in the town and there is not much to do. He also added there is a lot of teenage pregnancy.
Michael Hackett, a University of Guyana lecturer at the Berbice  campus was about to take his daily afternoon ride when Stabroek News caught up with him. He has been living in the town all his life and finds it peaceful. Over the years, he said, Rose Hall has not grown; it has remained the same for the past 20 years because nobody has does much to improve it.
Hackett said too that the sanitary conditions are not pleasant, although the tractor picks up garbage, and in addition the town floods whenever the rain falls heavily. Rose Hall used to have its own drainage pump 10 years ago but it was sold, and GuySuCo helps to drain the town now. Hackett said he noticed that the chicken restaurant which was recently opened does not filter the chicken fat, because the drainage nearby has an offensive odour.
Jaipersaud Balgobin, a re-migrant and pensioner, told this newspaper he used to live in Rose Hall Town but then he migrated to the United States with his family; he returned home about two years ago.  He described the town as beautiful, and rated it the best of all the six towns; however, the garbage situation is an embarrassment.  He added that the people of Rose Hall are extremely friendly and make you feel at home, although in addition to the garbage situation, he is upset about the drainage. He said the town needs to get these problems fixed in order to restore it to its former glory.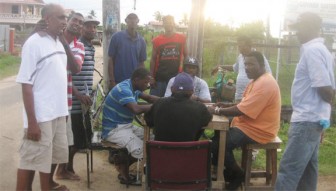 Stabroek News spoke to Town Clerk Melissa Punch, who said that the council tries its best to satisfy residents but that some of them do not pay their rates and taxes. She said the town does have D&I workers from the regional administration as well as garbage collectors, but there was one place where as soon as it was cleaned residents would go and dump garbage there.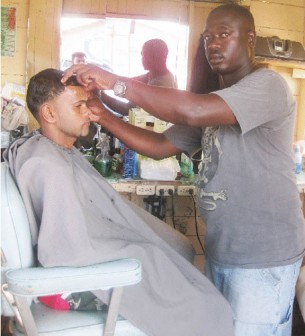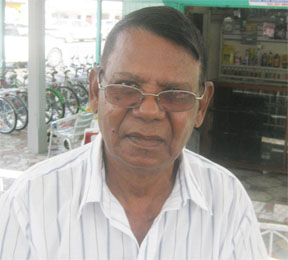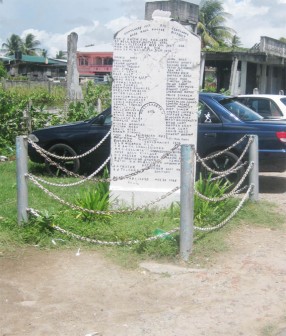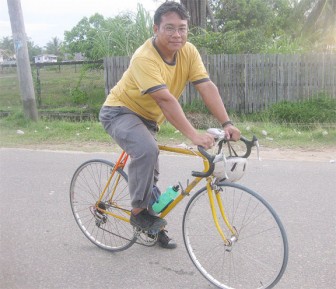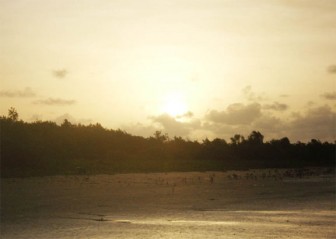 Around the Web