Fire of unknown origin flattened a one-storey, wooden,  two-bedroom house at Shieldstown Squatting Area, West Bank Berbice around 7 pm on Sunday, leaving a family of four homeless.
Owner, Manzoor Ally, 37, a cane harvester estimated his loss to be over $3M, including furnishings and appliances as well as tools belonging to a brother-in-law.
At the time of the fire he had gone with his wife, Shabana Ayube, 32, a pastry maker and their two children; ages eight and nine to visit an uncle two streets away. They received a message from a child that their house was on fire and by the time they got to the scene they saw the "big blaze."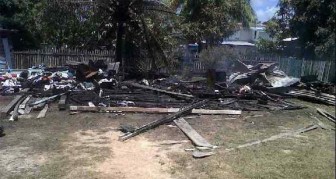 Residents assisted them to form a bucket brigade but they were unable to contain the blaze. In the meantime, a neighbour, Sevuraj Bridgelall summoned the fire tender from the Blairmont Estate.
He told this newspaper that the tender arrived within a short time and doused the building but it was already engulfed.
Bridgelall said the fire-fighters turned their attention to his house which was threatened and successfully managed to prevent it from burning as well.
He recalled that he was not at home and when he returned he saw a large crowd and joined in the effort to put out the fire. Fire-fighters from the Onverwagt Fire Station arrived later and conducted investigations.
Around the Web