The British High Commission yesterday donated 50 assessment kits, comprising supplies and equipment for physiotherapy, occupational therapy and speech therapy, to the Ministry of Health's Rehabilitation Division.
The assessment kits are to be used by rehabilitation assistants to assess and treat children and adults with disabilities at the 20 rehabilitation centres countrywide. Usage and emphasis will be placed on remote areas, such as regions 1, 7, 8 and 9, due to the inaccessibility of persons there to these facilities.
The Ministry of Health estimates that in Guyana today, there are 7,000 children living with disabilities and there is a significant under-referral of people with disabilities to services in Guyana, especially in the regions outside of Georgetown. Restricted access to transportation, limited awareness of services and stigmatisation are blamed for the under-utilisation of services.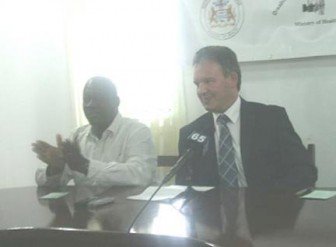 In accepting the donation at the Ministry of Health on Brickdam yesterday, Permanent Secretary Leslie Cadogan expressed his appreciation for the help of the British High Commission, in supporting the Rehabilitation Division in providing better services. The items, which cost £4,088.27, were purchased from local businesses such as Giftland OfficeMax, Austin's Book Services, Metro and Twins Manufacturing, and included toys to help children learn.
Speech and Language Therapist Candace Wickham noted the importance of such donations to achieving the goals of the division, but stressed that there are still challenges in terms of the resources available to aid in the delivery of adequate and effective therapy.
Meanwhile, Fiona Craven, Voluntary Services Overseas Speech and Language Therapist attached to the Ministry of Health and who had made the application for assistance to the High Commission earlier this year, noted the importance of the assessment kits to remote areas.
She said, "the kit bags are very effective in carrying out the necessary assessment in far locations since everything that is needed to assess persons are in the kits."
The kits are easy-to-carry bags that are expected to increase the number of persons reached by rehabilitation assistants in remote locations and form an essential part of the tools used in the screening process to promote community-based rehabilitation.
The Health Ministry also noted the need for rehabilitation assistants to carry out outreach screenings to identify persons with disabilities. They noted that an existing school screening project plays a vital role in identifying children with disabilities and helps to provide early support and treatment for them.
As part of the project, Rehabilitation Division staffers have been trained to carry out school screenings and have been provided with picture-based manuals to stimulate children.
Around the Web