Five of the current Assistant Commissioners of Police are above the retirement age but have been retained on contract because they have skills the police force needs, Home Affairs Minister Clement Rohee told the National Assembly on Thursday.
Responding to a question from APNU MP Winston Felix during the Consideration of Estimates for the Home Affairs Ministry, Rohee told the House that out of seven contract workers for the force, five are Assistant Commissioners and another is a bandmaster. He later indicated that all of the Assistant Commissioners on contract had already reached the retirement age of 55.
Substantive Police Commissioner Henry Greene is also over the retirement age, but his tenure has been extended by government, although questions have been raised about the legality of this arrangement.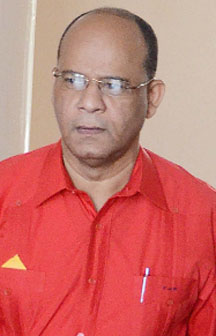 Questioned by Felix as to why they were being retained, Rohee said that certain skills were required for the proper functioning of the force until it builds capacity. Felix further questioned whether by keeping on these retired officers, the confidence of younger ranks is being affected.
While defending the wisdom of the policy, Rohee said that he has not received any complaints from the acting Commissioner of Police Leroy Brumell that ranks were being affected by the Assistant Commissioners still being on the job.
APNU MP Basil Williams, meantime, enquired why former Assistant Commissioner Paul Slowe had not been retained in that capacity. In response, Rohee said that Slowe's skills were known and he was free to approach the acting Commissioner of Police for a contract if he so desired.  Rohee, however, said that he doubted Slowe would want to do that, since he currently appears to be comfortable.
Slowe retired from the force in 2010 and he publicly criticized government's management of the force. His statements drew a strong rebuke from Rohee.
Meanwhile, Rohee told the House that the government will be establishing a floating police station to service riverine areas. He said that the facility has been designed with assistance from the Guyana Defence Force and will service mainly the E&F division.
The mobile police station will be outfitted and ranks will be permanently placed there, Rohee said. These ranks, he said, will be rotated.  The facility, the minister opined, will help in enforcing law and order, particularly in mining areas. There has been a spate of crimes in interior locations over the past few years.
The minister further indicated that the government is looking towards acquiring a vessel that is equipped to fight fires from and in the rivers. According to Rohee, a vessel has been identified and discussions are ongoing with the manufacturers to make it more affordable for the government.
Currently the Guyana Fire Service has 34 water tenders but priority is being placed to get water bearing vessels, Rohee said, in response to a question from APNU MP Desmond Trotman. Of the 34 water tenders, 31 are currently serviceable, Rohee added, in response to another question from Trotman.
Around the Web