A two-year-old girl died on Saturday  while being treated at the Georgetown Public Hospital for what was described by relatives as a mild fever and vomiting and her parents are seeking answers about the circumstances surrounding the tragedy.
Felicia Angel Baynes, 27-months-old, fell from a bench at her Ann's Grove, East Coast Demerara home on Tuesday and suffered a fever the following day. The child subsequently started to vomit and her parents became concerned on Saturday morning when this ailment worsened.
The child was rushed to the hospital around 6 am and her condition within hours deteriorated.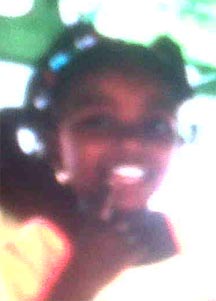 "She was talking and everything, she was calling for water, nothing was wrong with her," her grieving mother, Keisha Bristol told this newspaper yesterday.
She explained that the doctors said that the child would be required to be taken to the St. Joseph Mercy Hospital for scans to her head and stomach to be completed. While she was told that there was nothing abnormal found on the head scan, Bristol said that it was indicated to the family that the hospital had not received the results of the second scan.
"This is really puzzling to me. I don't know right now where I stand. I don't know what my daughter succumbed to. She went into that hospital with a fever, nothing else. Nothing else was wrong with her. She was talking and everything," her distressed father, Fitzroy Baynes, said.
The mother further said that while her daughter was a patient of the Intensive Care Unit, she noticed a burn on her chest that she had not seen before but when the nurses were questioned about this, she was told the child was admitted with it.
"When I ask about it, nobody could give me a proper answer on to now. She didn't go in with it… they give her blood, saline, oxygen, injection and all kind of things and they didn't want us around or they didn't even tell us what's wrong, just that she had to be admitted," the woman recalled.
"I don't believe is no fever… we was just hoping and praying for the best but then sometime after 4 during the visiting hour, a nurse just come out and said "sorry she didn't make it". When I saw her back she was already gone," Bristol said sadly.
The family said they are uncertain of what their next move should be but are patiently awaiting the post-mortem examination which is expected to be conducted today.
Around the Web