Scotiabank (Guyana) recently won five of seven international awards for promote volunteering and it is set to continue its activism with a charity golf tournament planned for today.
This announcement was made on Thursday at the bank's Robb Street headquarters at the launch of its 15th Annual Golf Tournament, to be staged at the Lusignan Golf Club (LGC). Over $300,000 is up for grabs to be donated to the charities of choice, of the first, second and third place winners in the tournament.
"Scotiabank is well-known for good corporate citizenship and our philanthropic efforts.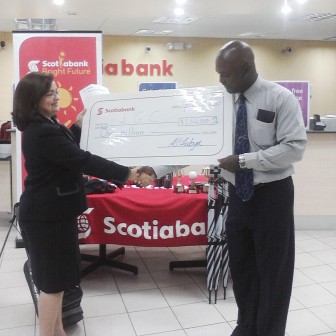 Under our Bright Future programme we channel funds and employee volunteer hours towards initiatives that benefit children in the areas of education, health, social well being and sports," Scotiabank Country Manager, Amanda St Aubyn, said. Scotiabank's Global Bright Future Programme is recognised in its home country Canada as a leader in philanthropic initiatives.
Natalie Noel, a Processing Officer at one of its branches, won the Outstanding Individual Contribution award and the Community Leader Award for her work volunteering with the Lions Club of D'Urban Park.
Guyana led countries globally by picking up the Outstanding Philanthropic Performance Award, the Bank's Building Profile award, Most Employee Volunteer Hours, Outstand-ing Individual Contribution and Bright Future Country Award. Local charities that will receive donations from the prize money include Lions Clubs of Bartica, West Demerara, D'Urban Park, Uncle Eddie's Home, and Habitat for Humanity, among several others.
The golf game will start today with more than 35 golfers competing for various prizes, including trophies and cash in sums of $150,000, $100 000 and $75,000 to the respective charities of the top three finishers.
"This addition to our golf sponsorship is an attempt to encourage our stakeholders to be as passionate as we are about giving our children a bright future and hopefully we will see this passion manifest itself on the golf course by more intense competition," St Aubyn said.
Around the Web