A 69-year-old US citizen who was beaten in the head with a galvanized pipe by a mentally challenged man on Wednesday last, yesterday succumbed at the Woodlands Hospital while receiving treatment.
Walter Sankar of Lot 7 Fort Street, Kingston was at a shop opposite his home purchasing cigarettes when a mentally challenged man approached him from behind and began beating him in his head with a galvanized pipe. This was around 6.30 pm on Wednesday last.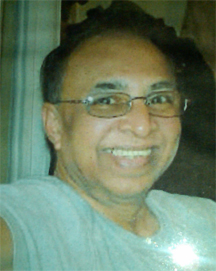 According to his daughter-in-law Faye Ellis, she was in her kitchen when she heard a noise and on investigating discovered her daughter screaming and her father-in-law lying on the floor of the shop bleeding profusely.
She said, "My daughter was screaming that someone just killed her granddad and when I asked her how somebody killed your granddad she said 'a man just beat my granddad come and see he is lying on the floor', so when I go outside I saw him lying on the ground bleeding and his son standing behind him."
She stated further, "I started to find out what really went on and I heard that a mad guy who lives on the seawall went to the shop and he was standing behind my father-in-law and he took some iron out of his bag and started banging him to the head about 10 times and that was the commotion."
Ellis told Stabroek News that Sankar was bleeding heavily from the head and was immediately rushed to the Woodlands Hospital where he underwent an emergency operation to have the fluids drained from his head because he was suffering from excessive internal bleeding.
She added that he was slipping in and out of consciousness and was moaning from intense pain. She stated that his speech was garbled.
"He was just moaning in pain and then when we took him to the hospital they said that he is in and out of consciousness and he is not speaking anything that makes sense," Ellis said.
Sankar remained at the hospital receiving treatment until he passed away some time around 4:37 am yesterday.
Stabroek News was reliably informed that the mentally challenged man is in police custody and expected to undergo a medical evaluation.
Sankar's body is at Sandy's Funeral Parlour and he leaves to mourn his five children amongst other relatives.
Around the Web