The Ministry of Local Government and Regional Development commissioned an $8.5M Amerindian hostel at Karasabai and several other projects during a recent visit to 20 communities in Region Nine.
According to a Government Information Agency (GINA) press release, a $3.6M abattoir at Karasabai and a $5M Teachers Dormitory at Tiger Pond were also opened.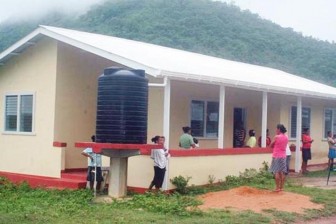 Permanent Secretary Collin Croal said the hotel is another demonstration of government's commitment to improving the lives of Amerindians. About 3000 residents from Karasabai and neighbouring communities such as Tiger Pond, Rukumutu and Tipuru are expected to benefit from the establishment of this structure, which will fall under the purview of the Region Nine Administration.
GINA noted that the construction of the abattoir was subsidised by the government and is the fulfilment of a commitment made in 2011.
The release also said these faculties complement a number of other structures, such as the Sand Creek secondary school and dormitory, the Annai Secondary School and dormitory, and the St Ignatius Secondary, which government has undertaken to boost the lives of Amerindians.
Around the Web