-was deported from US for drug offence
Dennis Jones, the exporter who was nabbed after he tried to ship over 300 kilos of cocaine in a container of packaged soap powder to Niger Republic, in Africa, was yesterday sentenced to four years in prison after he pleaded guilty to narcotics trafficking.
"I take full responsibility for my actions," Jones 58, of lot 239 Caneview Avenue, South Ruimveldt Park, said before Chief Magistrate Priya Sewnarine-Beharry handed down the sentence at the Georgetown Magistrates' Court.
Jones, the court was told, had been deported to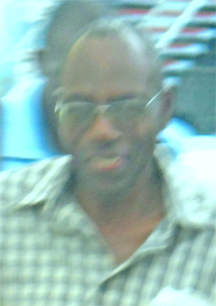 Guyana from the United States, after being convicted of conspiracy to traffic cocaine.
He was held on Thursday after attempting to ship 327.7 kilogrammes of cocaine from the John Fernandes Limited terminal, at Mandela Avenue, on Thursday. The Guyana Revenue Authority (GRA) yesterday said the drugs have an estimated street value of US$10M.
Customs Anti-Narcotics Unit (CANU) prosecutor Oswald Massiah told the court that Jones is an exporter and had gone to the John Fernandes terminal on Thursday morning to ship a 20 ft container of Breeze-brand soap powder, when CANU ranks requested to examine the container.
During the examination done in the presence of Jones, Massiah said, ranks discovered a number of packets which had the brand label but were packed with cocaine in a transparent plastic sealed within.
He further said that after the discovery was made, officers then cautioned Jones and told him of his rights, then arrested and charged him. At this point, he told officers that he took a chance. Massiah further said that the illegal substance was then weighed but up to yesterday, CANU still awaits on a report concerning the volume of the substance. He also told the court that Jones had previously been deported from the United States after he was convicted for conspiring to traffic cocaine.
Jones admitted to the Chief Magistrate that he had knowledge of the cocaine. "I accept what the prosecutor said and I take full responsibility for my actions," he told the court.
Attorney Mark Waldron, who represented Jones, pleaded for leniency before sentencing, pointing out to the court that his client took full responsibility and cooperated with officers.
Taking into consideration all the aggravating and mitigating factors, the Chief Magistrate sentenced Jones to four years imprisonment along with a $30,000 fine.
'Flagged'
The GRA, however, yesterday offered a different account of how the drugs were found in a statement issued yesterday, saying that the drugs were discovered by officers of the GRA Drug Enforcement Unit (DEU) and Good Examination Unit (GEU) after the container, packed with Foam and Breeze Laundry detergent, was flagged for secondary examination by the Container Scanner Unit on Monday.
The examination, the GRA explained, began the same day at the John Fernandes Limited Terminal in the presence of Jones. "After almost four (4) days of examining the content of the container with the usual diligence, randomly opening over 100 bags of 10kg Foam Laundry Detergent, the find was made upon testing the first sample Breeze Laundry detergent which were packed in sacks that contained sixteen (16) packets of 900g of Breeze Multi Active and Breeze with Comfort Aloe Vera in the back half of the container," it said.
GRA added that on Thursday, officers found a sack of Breeze Multi Active Laundry Detergent that "felt unusual" and it was opened and found to contain a clear plastic bag with a white powdery substance that tested positive for cocaine.
CANU was alerted and subsequently came to the scene, at which time further examinations were conducted, it further said. "The officers continued the examination by checking all sacks of the same product and it was found that most of the sacks contained an average of six (6) packets containing the narcotic drug. The total was three hundred and twenty five (325) packets," it added. The estimated street value of the drugs was given as US$10M.
GRA also said that investigations revealed that the commodity was purchased by Bryden and Fernandes Limited and was delivered to Jones' residence and later trans-shipped to the John Fernandes Limited Terminal for stuffing into the container. The consignee was identified as Okeke Michael Okwudili, 26 Nacho Shed, Maladi, Niger.
GRA commended the officers of the DEU for their diligence and vigilance in the execution of their duties and fulfilling of the mandate of division.
A source told this newspaper that drug traffickers are continuing to find new ways of getting drugs out of Guyana. Drug traffickers seem to be growing uncomfortable with using the airport as they are not getting to ship the amount of cocaine that they want out of the country. As a result, the source said, they are trying other exit ports.
Recently, US$7.1 million worth of cocaine was discovered in coconut milk tins in Malaysia. Two persons, Looknauth Denasur and Vijay Bisraj, were separately charged on Thursday, with the former pleading guilty and being sentenced to four years for conspiring to traffic in an unknown amount of liquid cocaine. Bisraj, a seaman who was reportedly caught with two tins of the substance at his home, was remanded to prison.
Drug traffickers have also used lumber, rum, pepper sauce, and cabbage, among other items, in attempts to export drugs out of the country.
Comments
British High Commissioner to Guyana Greg  Quinn  yesterday said that it was hoped that more would have been done to push the constitutional reform process forward.

A West Coast Berbice man died after he reportedly set his one-storey house ablaze sometime around 11.20 am yesterday.

A Yarrowkabra miner was yesterday charged with the murder of a co-worker, whom he allegedly beat to death during an alcohol-fuelled clash last Saturday at a dredge site in the Potaro Backdam.
A court action was yesterday filed challenging a directive issued in the name of President David Granger to the Police Service Commission (PSC) for a hold to be placed on planned promotions this year.
UK security expert Lt Col (rtd) Russell Combe, who is working closely with the Guyana government to resuscitate the Security Sector Reform Action Plan (SSRAP), will be broadening his mandate to assess the country's prison situation.