BRIDGETOWN, Barbados – West Indies star all-rounder Stafanie Taylor says she had two major goals in mind as she prepares to take on Sri Lanka Women in a home series over the next three weeks in Barbados and Trinidad. Taylor said it was important for her to "do whatever [was] required" to lead the Windies Women to victory, and secondly, maintain her positions as the No.1 batter and No.1 all-rounder in the women's ICC One-Day International rankings. Taylor got all the inspiration she needed when she met and had lunch with some of the greatest ever to play the men's game. She and other members of the West Indies Women's team were special guests of the West Indies Cricket Board (WICB) during the first Digicel Test recently at Kensington Oval. During that time, Taylor met most of the legends from Barbados, including Sir Everton Weekes, Sir Garfield Sobers, Wes Hall, Joel Garner and Charlie Griffith.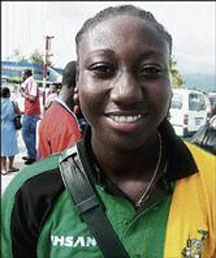 "It was an amazing experience for me," she said. "I am a cricketer, but I am also a cricket fan, so it was beyond my dreams to get the chance to meet those great players and sit down and speak with them.   "They gave me great words of encouragement and I sat and listened and tried to gain as much knowledge as I could in the period of time I had there. I have an added incentive now to produce more good performances."
Taylor, a 20-year-old right-handed opener and off-spinner, won the prestigious ICC Women's Cricketer-of-the-Year award last year.  She currently tops the batting table with a 63-rating points lead over India's Mithali Raj and the rankings for all-rounders with an 85-point lead over Australia's Lisa Sthalekar.
Should the Jamaican perform well in the series, she could further secure her spot as not only the No.1 batter, but also the No.1 all-rounder. "I want to continue to build on what I have achieved so far," she said. "I worked hard to reach No. 1 and I want to stay at No.1. "I always look to bat time and build a solid platform for the team. I try to read the game and assess the situations and always put the team first." She added: "My bowling is steady and I depend a lot on accuracy and variations. . .I'm not a huge spinner of the ball. "I am still a young player and I have a lot of cricket ahead of me. I enjoy playing the game and look forward to every opportunity to go out and showcase my talent for the people of the West Indies." Taylor is the most successful female player in West Indies history. She has so far hit three centuries in a record 1,830 runs at an average of 45.75, and managed 59 wickets at 16.72 each in 47 ODIs.  In 29 T20 Internationals, she has gathered 762 runs including eight half-centuries and taken 26 wickets at 18.23 each. "We are growing as a team and more and more players are feeling confident and starting to perform on a regular basis," she said.  "We know we have what it takes to beat Sri Lanka. We won't take anything for granted, but based on the way we played and beat India earlier a few months ago, we know we have the players capable of winning again."
Around the Web