One of Sunday's women's semi-finals of the lucrative Guyana Telephone and Telegraph Company Limited/National Sports Commission/Guyana Softball League nationwide 10/10 could turn out to be a battle of rival captains June Ogle and Abena Parker.
The semi-finals will take place at the Everest Cricket Club ground with the top four teams in the male and female categories facing off.
In the female division, Mike's Wellwoman will come up against Trophy Stall Angels while 4R Lionness will clash with Rising Star.
In the male semi-finals defending champs Wolf's Warriors will face Unstoppables with Rockaway Auto Sales 'A' and Regal X1 contesting the other semi-final.
Determining which teams will advance to the final in the women's category will be difficult since all four teams have played unbeaten in this year's competition.
But Sunday's semi-final clash between Mike's  Wellwoman and Trophy Stall Angels is the most talked about semi-final to date simply because of the prowess of the captains of both teams, Parker and Ogle.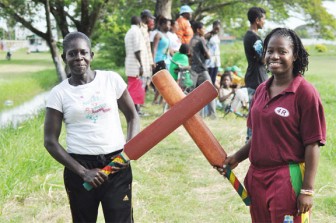 The Angels will be led by Ogle, who scored a half century in the last game while Parker will lead Mike's Wellwoman.
Both sides will be leaving no stone unturned in their quest for victory Sunday with Parker informing the media that they will be training every day of this week for the key clash.
Parker views Sunday's game as their toughest yet adding that tactics will most likely determine the winning team.
Mike's Wellwoman will be hoping that history does not repeat itself.
They lost in the semi finals last year to eventual champions, Berbice and will be looking to go one better this year.
Parker said she feels that her side has the players who can go all the way.
"We have great depth in our batting from one to eleven so we are not bothered by what the opposition will throw at us, we can counter effectively," she told the media.
Parker's opposite number, Ogle, said her team wants to win for their sponsor.
"We are much focused and have our sights set on going all the way to win the final on May 12th at the Providence Stadium. The team collectively has put in a lot of work over the past few months and we have been reaping the rewards of committed work," she said.
GT&T, Gizmos & Gadgets, Guyana Lottery, Banks DIH and Kings Jewellery will all have giveaways for the fans and that is added incentive to be present to cash in.
Around the Web