Overseas-based sprinter and 2008 Olympic representative Adam Harris has his sights locked on the 2012 London Olympics as he aims to redeem himself for his performances four years ago in Beijing, China.
Harris, who failed to move past the first round for Guyana four years ago in both the 100 and 200 metres at the Beijing Olympics, is on a redemption path this time around.
"I would love to make the Olympics again. I feel like I have to make up for 2008 where I didn't pass the first round and once I stay healthy I know that I will make it through a couple rounds and hopefully to the finals," the 24-year-old Harris told Stabroek Sport.
With the 2012 season just two months away from the showcase of the world's best athletes, Harris's main focus is simple – to run personal best times this season.
"My goals are usually the same for each season and that is to run personal bests, I haven't had a completely healthy season in a while but I'm hoping this year that I can stay 100 percent and if I do I should be able to run personal bests," the 2009 Michigan graduate stated. Harris' personal best (PB) times stands at 10.21s and 20.67s in the 100 and 200 metres respectively along with having a 10.09s wind aided 100 metres time.
He has clocked 10.48s and 21.18s in the 100 an 200 metres this season.
"So far I have only run one meet this season both the 100 and 200 metres into the wind… the 200 I wasn't taking as seriously so I didn't run it to my full potential, I just wanted to see where my training was at the moment," Harris said of his season at this current moment.
However, with the Olympics right around the corner, Stabroek Sport was assured by Harris that Guyana will be featured in the sprints at the London Games when it gets underway from July 27.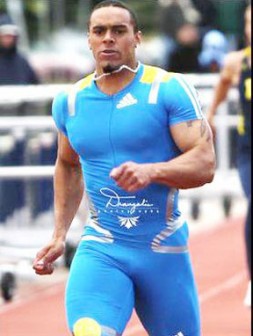 "Once I stay healthy, I will definitely be able to hit the standards," Harris boldly stated during the interview.
Harris has no big wins in his pockets for the season as yet but said some are likely to come.
Asked how his training is evolving Harris said:"Well, the training is going very well, I want to say that I'm in the best shape that I have been in a long time so I am ready to run some fast times.
"So judging by the way my training is going there should be no doubt that I hit the standards to make the Olympics this year."
Stabroek Sport also got an insight on Harris' relationship with the Guyana Olympic Association (GOA) and the Athletics Association of Guyana (AAG) during the exclusive interview.
"It's hard for them to do much because I'm in the US (United States), but every once in a while they check up on how I'm doing and how my training is going…everyone has faith in me so I'm really doing my best to not let them down," he stated.
With no big meets currently in sight for the Florida native, Harris looks to run the qualifying standards at meets in Florida.
"I don't know the rest of my schedule as yet, but for now I will be running local meets around Florida and hope to run fast times there," Harris revealed.
Harris looks to reassure the Guyanese public that he will be going all out to make the Golden Arrow Head proud as he concluded:"Guyana should expect me to run very fast and hopefully break some records in the process."
Around the Web