Local lawn tennis doubles pairs will look for improved weather this month-end when they compete in the Trophy Stall Doubles lawn tennis  tournament.
Managing Director of Trophy Stall, Ramesh Sunich, yesterday said that he  was excited to fully sponsor the tournament for the third time.
Sunich said that he has enjoyed supporting the association as a vendor for several years but now wants to give back to the sport to stimulate more interest and help it to grow.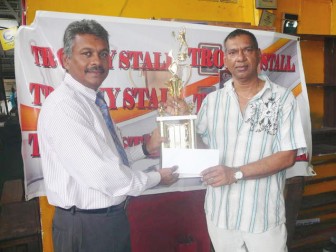 An estimated 30 pairs will display their tactics for what is expected to be a keenly contested tournament especially  for the top-seeded pairs Sandeep Chand/Andre Lopes and Jeremy Miller/Jason Andrews in the men's Open and the mother/daughter pair Shelly and Nicola Ramdyhan in the Ladies Open.
President of the GLTA, Ramesh Seebarran has expressed gratitude to Sunich for his venture into the sponsorship of lawn tennis having been the  primary trophy vendor supporting the sport for over 10 years. There will be trophies for  the men's Open doubles, ladies Open doubles, men's over 35 doubles and mixed doubles events.
Additionally Trophy Stall T-shirts will be presented to all the  finalists.
A GLTA official yesterday lamented that the weather has affected this year's programme but said that they are hoping that the weather improves as  the players prepare for a hectic second half of the year follwoinmg the staging of the Guyana Bank for Trade and Industry Open. The tournament will commence August 30 at a venue to be announced. Forms will be available from August 21 from Tournament Coordinator Jeremy Miller who can be reached on telephone number 643-4423.
Around the Web