By Emmerson Campbell
It was surely not what the thousands of the yellow clad supporters of the Golden Jaguars went to see at the Providence National Stadium.
After the Guyana Jaguars football team held El Salvador to a 2-2 draw on Friday in the away game, the locals went down 2-3 in a hard-fought defeat last night to their Group B foes in the third round of the third round of the 2014 World Cup qualifiers.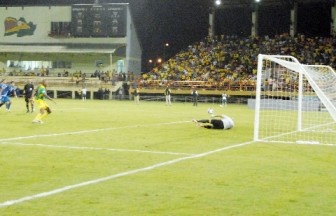 A penalty which was missed by Carl Cort in the second minute of injuries and stoppage time after Walter `Boyd' Moore was fouled could have given the locals a draw, but his blemish took the bite out of the Jaguars and sent the crowd to the exits.
A first half goal by Osael Romero (12th minute) and two second half goals by Jaime Alas (56th minute) and Rafael Burgos (76th minute) put paid to the locals hopes of qualifying for the next round.
A first minute goal by striker Gregory 'Jackie Chan' Richardson off a pass from Cort just outside the 18-yard box created pandemonium in the stadium as the supporters roared and cheered the Jaguars who seemed primed to record a victory with their relentless attack.
Three minutes later, the Jaguars could have gone two up, but a shot by Cort sailed just over the cross bar. The El Salvador players, however, kept their composure and calmed things down with discipline defence and in the 12th minute, forward Romero equalized off a header at point blank range after he received a cross from Burgos running down the left flank.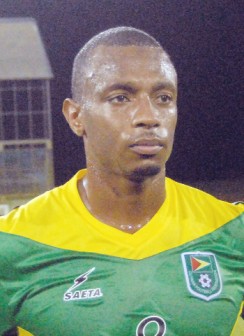 Both teams would create chances but did not score and as such went to halftime one all.
The second half saw El Salvador claim the lead when Alas scored from a corner kick, but Guyana equalized in the 62nd minute from the boot of the captain Christopher Nurse.
At that point, it was a race for the lead and both teams played with a sense of urgency trading shots for the win. However it was the guests who went ahead in the 76th minute after Burgos scored a dagger which silenced the crowd of about 6000 supporters.
All was not lost as Moore was fouled inside the 18-yard box and gave Guyana a chance to equalize.
Unfortunately, Cort's tame shot was greeted by the gloves of El Salvador's goalkeeper, Dagoberto Portillo.
In a post match interview Coach of the national team, Jamaal Shabazz said that he took his hat off to his charges because despite losing, they played their hearts out.
"I feel good about our team, we played our hearts out, when we were down we fought back, we need to learn how to keep our lead and composure but I am proud of our team".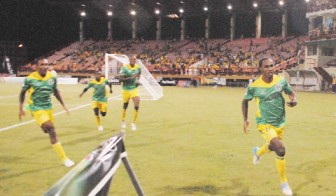 He added "I saw more desire and a more tactical understanding, we played as a group and we believed that we could have scored even when we were down 3-2 and we almost did if we did not miss that penalty."
When asked what were his thoughts on Cort's penalty pat which was easily saved by El Salvador's custodian Shabazz replied "I would back him to make that penalty 99 times out of a 100. I have no regrets with him taking it."
Guyana's next World Cup qualifier match is scheduled for the same venue against Mexico on October 12.
Guyana's starting 11 was Nurse, Richardson, Moore, Cort, Richard Reynolds (goal keeper),JP Rodriguez, Ricky Shakes, Nicholas Millington, Jamaal Smith, Charles Pollard and Treyon Bobb.
El Salvador's 11 was Portillo, Burgos, Romero, Alas, Moises Garcia, Dennis Alas, Darwin Ceren, Carlos Monteaguda, Eliseo Quintanilla, Milton Molina and Jose Gutierrez.
Around the Web