After successfully competing in an exhibition tournament organised by the Guyana Squash Association (GSA), Professional Squash Association (PSA) player Christopher Gordon said squash in Guyana has a progressive future.
Gordon, who is ranked 57th in the world by the PSA, said that local squash has several great components capable of yielding even more success in the future.
"Squash in Guyana is on the [way] up," Gordon mentioned during his time in Guyana.  The 26-year old US-born player said that he has seen and learnt of several positives in the local squash community that can be immensely beneficial if used correctly.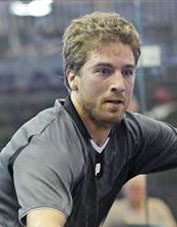 Gordon, who was coached by US-based Guyanese squash maestro Richard Chin, said that having Level Four IV Elite squash coach Carl Ince is a huge advantage for the development of the sport in Guyana.
"From a coaching stand point Carl Ince is a world class coach and his mentoring can help cultivate the next generation of Guyanese champions," Gordon said. Ince, as national coach, has  helped Guyana's junior squash team win eight straight overall titles at the Caribbean Area Squash Association's (CASA) Caribbean junior championships.
Gordon also said that he was very pleased with the reception and support that he received from the crowd during the exhibition tournament.
"I think the exhibition was a huge success. We got a great crowd and everyone seemed really excited to see me and Guyana's top players go head-to-head," Gordon said.
He added that the Georgetown Club provides a great atmosphere and with the addition of the new public courts, the sport is in a position to expand and flourish even further.
"From a facilities stand point the Georgetown club has a great atmosphere and I've heard that the first public courts in the country have just opened which can only mean good things in terms of opportunity to expose the game to the broader population," Gordon said. Gordon, the victor of the 2011 El Salvador Open, also stated that the prowess of world number 48th ranked women's player Nicolette Fernandes will also benefit the sport at the domestic level.
"From an overall awareness of the game, Nicolette Fernandes is really coming into her own on the WISPA world tour and can provide the inspiration and [a] public persona to hopefully raise awareness and attract local interest and sponsorship to the sport," he stated.
The GSA has managed to attracted corporate sponsorship from several companies including Digicel Guyana, who sponsored the Junior Caribbean Championships in 2010.
"With the right cultivation and support, squash in Guyana has every chance to boom," Gordon said.
During the exhibition tournament Gordon competed against Fernandes, Chin, and two-time reigning national champion Alex Arjoon.  Gordon comfortably won all his matches in straight games (2-0), although his former coach Chin, who was a four-time all American, came the closing to winning a single game during their match.
Comments

A resurgent Guyana Amazon Warriors side completed a comprehensive seven wickets victory over the out-of-sorts St Lucia Stars to cruise to their second consecutive home win in the Caribbean Premier League (CPL) at the Guyana National Stadium, Providence, last evening.

BARCELONA,  (Reuters) – Barcelona are suing Neymar for 8.5 million euros ($10.00 million) for breach of contract as they want him to return the bonus he was paid when he signed a new five-year deal just nine months before joining Paris St Germain, the Spanish club said yesterday.
(Reuters) – Cristiano Ronaldo will have to serve his five-match ban for pushing a referee after the Spanish sports court (TAD) rejected Real Madrid's appeal against the length of the suspension, Spanish media reported yesterday citing court officials.

A 90th+3 minute strike secured Western Tigers a 1-1 draw with Georgetown Football Club (GFC), when the Corona Beer Invitational Football Championship continued on Monday at the GFC ground, Bourda.

Despite concluding the CONCACAF u15 Boys Championship with only one victory from four matches, Guyana Football Federation (GFF) President Wayne Forde said, he is delighted with the team's overall performance.