Guyanese artist Bernadette Persaud has been inducted into the Caribbean Hall of Fame for Excellence 2012.
The ceremony, held on November 23, by the Caribbean Development for the Arts, Sports and Culture Foundation in association with the Caribbean Community, took place at the Jamaica Pegasus Hotel. Bernadette was awarded for her contribution in art.
The foundation recognises the development of the arts, sports and culture in the Caribbean and encourages the natural genius of Caribbean people to reach the highest level. According to the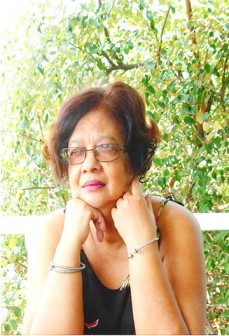 foundation, induction into the Hall of Fame is in recognition of the notable contribution made by those who have achieved excellence in arts, sports and culture, and it is not influenced nor determined by factors of race, colour, religion, sex or political affiliation.
Bernadette Persaud, who has been conferred with the national honour – the Arrow of Achievement – first gained national recognition in 1985 when she became the first woman to win the National Visual Arts exhibition. She has exhibited widely, in the USA, UK, Canada, India and the Caribbean. She taught at the Burrowes School of Art and was later a senior lecturer at the University of Guyana. She is now retired. Her art is represented in the National Collection and several private and corporate collections at home and abroad.
Comments

Having been able to keep huge corporate client Demerara Distillers Limited has had Makeup Artist Cideca B Mangal turning heads for quite some time.

Dancehall artiste Keon 'Rictyza' Forde will be releasing three brand new singles just in time for the Mashramani season.

Authentic jewelry, handmade with stones and beads is accessible at the newly opened Divas Art and Craft Store located in the Avinash Complex on Water Street, which boasts of producing pieces that will last for a lifetime.

Nigel Butler, a former Burrowes School of Art student, is making great strides with his unusual artwork around Guyana.

The Guyana Ballroom Dancers Association (GBDA) hosted its third show and dance off last Saturday night at the King Solomon Hotel (Main Street Plaza).