Hi Everyone, last week my broadcast students and I were discussing programming plans for the College's radio station, for Holy Week – the week from Palm Sunday leading up to Easter Sunday. Among the things we talked about were traditions and food. There was a recurring theme – the imposition of our parents' food preferences and rituals, particularly on Good Friday. And how, now as adults, we rebel.
You may recall me telling you that during Lent my mother unilaterally decided that the entire household would not be eating any fish or meat on Wednesdays and Fridays. And on Fridays she encouraged us to fast but she was more relaxed about this rule for us children. She, however, fasted on Fridays (and I think Wednesdays too).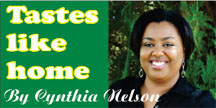 Holy Thursday afternoon mom would bake cross buns. This was to be eaten for dinner the evening but most certainly for breakfast on Good Friday morning. I never liked my mother's Cross Buns and therefore grew up not liking Cross Buns until I made it to suit my taste. Good Friday morning would arrive and I'd force myself to eat the Cross Buns and before you knew it, it was time to get ready to go to Church for Stations of the Cross. And you think that that would be the end of the Church-going for Good Friday eh? No way! We had to go to Church again in the afternoon for that long 3 o'clock service. And mind you, all this time, you had to be fasting! Don't think if you got home before 6 pm that you'd be able to eat. You had to wait until after 6 pm to break the fast and guess what? Mommy would cook strict-vegetarian food, not even fish or shrimp! Talk about punishment!
My students shared similar experiences of having to fast but only on Good Fridays. They had to go to two services too and while my siblings and I were subjected to vegan food, they at least ate fish. One young lady recalled how they were not allowed to eat Cross Buns with butter or cheese if it was eaten on Good Friday itself because her mother said that that would be too indulgent, they had to eat it just so. "So mommy you expect me eat this dry jus so?" she dared to ask one Good Friday. She said her mother gave her such a look that she quickly took a big bite of the cross bun and a glug of tea to chase it down. Ah. Parents boy!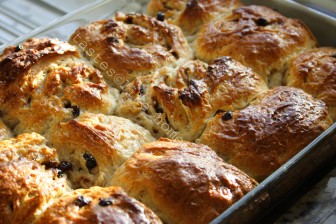 My first Good Friday away from home and living on my own in Barbados was liberating. No fasting. No Cross Buns. No going to two services on Good Friday. No going to any service on Good Friday (I went on Holy Thursday though). No vegetarian food. I remember as clear as that beautiful, quiet sunny day, I made stewed chicken, and it was good! Full on Good Friday Rebellion.
Of my current crop of Broadcast students, two of them still live at home and are younger so they still have to tow-the-line of their parents, but the others, live on their own and like me, they too rebel on Good Friday. Chicken is the order of the day. They stay away from red meat, because, you know, this helps to appease the mind. Some go to one service while others don't. They would go to the beach but they won't swim. They don't want take any chances. You know, let's only push this rebellion so far. Going out to lime on Good Friday evening, sure. No staying home to watch Ben Hur, The Ten Commandments or The Greatest Story Ever Told.
I remember not long after moving to Barbados there was a front-page story in one of the major newspapers here asking where is God in Good Friday. This was because people could be seen on many beaches across the island picnicking, barbecuing (and no, it was not fish they were grilling), frolicking and having a grand time. It just did not sit right with many. The call-in shows were bombarded with calls the Tuesday following Easter Monday and the letters to the editor were full of complaints about the perceived lawlessness taking place on Good Friday. To each his own I say. Let people determine their own relationship with their God whether it is Jesus, Jehovah, Allah, Buddha or the trinity of Brahma, Vishnu and Shiva.
We mark or lives with rituals and these rituals become even more important to us when we live away from home and our loved ones. The rituals remind and reinforce the connections and bonds we have with our family and friends. For all the talk about rebelling here's what I do come Holy Week.
I begin by going to Church on Palm Sunday. I sit in the pew before mass is due to begin and weave my lantern-shape palm. This gesture marks me. Last year a regular member of the church remarked, "I can tell that you are not Barbadian." I smiled and felt completely happy in my skin. No, I'm not Barbadian. I am Guyanese and this woven lantern palm takes me back to Sacred Heart Church on a Palm Sunday afternoon as a young teenager where I was taught to weave the palms by two ladies in the church.
I bake Cross Buns on Holy Thursday afternoon and I share them with friends. I go to Church in the evening and linger after mass waiting for the vigil. I come home and have Cross Buns with a pat of butter and a slice of cheese. On Good Friday morning, I have my Cross Buns, again, with butter and cheese along with a cup of tea. I spend the day quietly; I opt to cook fish instead of chicken or meat. The day always seems to command solitude and reverence. On Easter Saturday night or Easter Sunday morning, I go to Church again. So mommy, mom Adele, auntie Betty, auntie Henrietta and all the other women in my life that I hold dear, do not despair. You've taught me well.
Have a blessed Holy Week everyone.
Cynthia
Cross Buns
Yield: 12 – 14
Ingredients
1 tablespoon active dry yeast (or instant)
½ cup granulated sugar
1 + ½ cup warm whole milk (110 – 115 degrees F)
4 cups all-purpose flour
1 teaspoon ground cinnamon
¼ teaspoon ground cloves
¼ teaspoon grated nutmeg
½ teaspoon kosher salt (1/4 teaspoon table salt)
1/3 cup currants
3 tablespoons granulated sugar
2 tablespoons water
½ cup icing sugar
¼ cup whole milk
Equipment
1 medium bowl
1 large bowl, oiled
Plastic wrap or kitchen towel
1 (13 x 9-inch) baking dish, brushed with oil
2 small bowls
1 pastry brush
1 small whisk
1 tablespoon
1 large baking tray/sheet
1 wire rack
1 flat spatula
Directions
1.  Add sugar to bowl along with milk and stir to dissolve sugar. Toss in yeast and give a little stir (be sure to wipe off any yeast stuck on the spoon), cover and leave to proof for 10 minutes in a warm place
2.  Add flour to bowl along with ground cinnamon, cloves, nutmeg and salt and stir to mix thoroughly; toss in raisins and stir to mix
3.  Make a well in the center of the flour mixture and pour in the yeast-milk mixture and mix to form dough. Once formed, knead the dough for 2 minutes, place in oiled bowl, cover and put in a warm place to rise for 1 ½ hours or until more than doubled in size
4.  Punch down risen dough and knead for 2 minutes and then cut dough into equal pieces. Form each piece into a ball and place in oiled baking dish. Cover and let rise for 1 hour
5.  Preheat oven to 375 degrees F with the rack in the middle 20 minutes before the 1 hour of rising is complete
6.  Add 3 tablespoons sugar and 2 tablespoons water to small bowl and stir to dissolve sugar
7.  Brush risen dough with sugar water and transfer dish to the oven. Bake for 12 minutes; brush with sugar water and bake for another 12 minutes. Brush again with sugar water and bake for 3 minutes
8.  Remove dish from oven, place on wire rack and brush a few times with sugar water and leave to cool in the dish for 10 – 12 minutes
9.  Use your spatula to pry the buns from the pan and transfer to wire rack then place the wire rack on the baking sheet/tray and let continue to cool
10.  Meanwhile, add icing sugar and milk to a bowl and whisk to dissolve. Using a tablespoon drizzle the glaze all over the buns – on the top and sides. Let buns continue to cool until you are ready to serve them
NOTES
Instead of glazing the buns, you can opt to make the icing cross by mixing the icing sugar with 1 tablespoon of milk and then drizzle the mixture across and lengthways of the buns
Around the Web