Eight persons including the driver of a minibus and a car were rushed to the Fort Wellington Hospital yesterday following a collision at Number 27 Village, West Coast Berbice around 6.45 am yesterday.
Youthchan Jotis, driver of the minibus, BPP 2655, and seven of his eight passengers sustained minor injuries and were treated and sent away.
A nurse, Adiwinee Cumberbatch of Number 29 Village, who was also in the bus, sustained injuries to her forehead and left hand and had to be admitted at the hospital.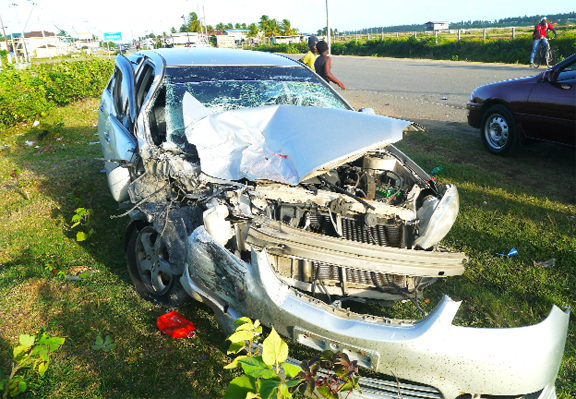 Driver of the care, a Toyota Vios, PLL 5549, Marcia Seegobin of Rose Hall, Corentyne who was heading to Georgetown was also admitted to the hospital.
The woman, the lone occupant of the car, sustained trauma to the chest and was waiting on x-rays to be performed.
Jotis of Bath Settlement told Stabroek News that he was on his way to Rosignol when the car, travelling in the opposite direction at a fast rate, overtook a tractor and came into his path. He was unable to avoid the crash. He injured his feet and nose.
Margaret Linton, 57, a security guard at the Rosignol Stelling who is attached to the Transport & Harbours Department sustained injury to both feet. But she was more concerned that she could not find her new pair of spectacles that she had purchased for $45,000. Her daughter Fiona and two-year-old grandchild who were also in the bus escaped with minor injuries.
Amanda Mohabir, 19, a student of the New Amsterdam Technical Institute and of Tempe Village, who was on her way to school, also supported the driver's claims.
She said the vehicles were too close and the driver "couldn't do anything or he would have ended up in the trench." She suffered a laceration to her forehead and a hit to her right hand.
A student of the New Amsterdam Multilateral Secondary, Sukraj Beephat,
16 said, "something in the bus broke off and hit me in my chest."
Around the Web