The US Embassy says Florida National Guard Major General, Emmett R Titshaw (the Adjutant General of Florida) is visiting Guyana to assess the current status of the State Partnership Programme with Guyana.
In a press release yesterday, the Embassy said during his January 14-17 visit, Titshaw is looking at the challenges, opportunities and accomplishments of the ongoing programme. He will also discuss plans for 2013 activities under the partnership, considering what both Florida and Guyana hope to achieve.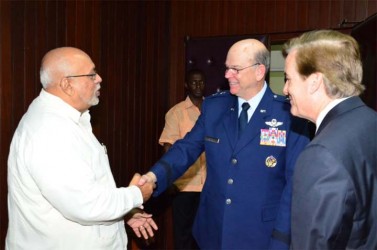 The general met with President Donald Ramotar, army Chief of Staff, Commodore Gary Best and other senior GDF senior officials, as well as members of the US Embassy. He also participated in a Senior Leadership Engagement seminar at Campy Ayanganna on Wednesday.
Titshaw's visit serves as a welcome reminder of the collaborative efforts and common goals the United States and Guyana share in regional security and disaster relief, the statement said. According to the Embassy, Guyana's relationship with the Florida National Guard is part of a programme implemented by Florida on behalf of the US Department of Defense which seeks to engage with partner nations on common goals and military cooperation.
"This initiative has given members of the Florida National Guard an opportunity to share skills, experience and information in the context of bilateral exchanges with Guyana and 65 other countries worldwide, to enhance military capacity and capability," the release said.
Last year, Guyana participated in four events under the SPP: an Officer Candidate Development School Visit, a Water Purification Assessment, a Combat Life Saver Subject Matter Exchange and performances and subject-matter exchanges by a US Military Band. Other programmes include integration of counter-illicit trafficking into GDF training, assessments of tactical communications, search and rescue skills and techniques, medical waste management and emergency disaster management planning.
Titshaw has been part of the Florida National Guard for 42 years in various positions. In his current position as Adjutant General, he is the Governor's Senior Military Advisor and is tasked with overseeing both state and federal missions of the Florida National Guard.
Around the Web