The results of a post-mortem examination (PM) conducted on the remains of 28-year-old Omesh 'Radesh' Thakurdin of No 72 Village, Corentyne confirmed that he died by hanging.
His uncle, Victor, who witnessed the PM conducted by pathologist, Dr. Vivikanand Brijmohan, also said that the body bore no marks of violence. Relatives are preparing to have the remains interred today.
Thakurdin, an employee in the field lab at the Skeldon Estate was detained on Monday at the Springlands Police Station for questioning in relation to the murder of his cousin, Captain Max Kungel, a doctor in the US Army.
He was taken to the No 51 Police Station around 8:50 pm and around 5:20 the following morning officers found him hanging by his shirt from the grill work.
In the case of Dr. Kungel, relatives told Stabroek News yesterday that "it was confirmed that he would be cremated in Guyana… It was always his desire to be cremated here."
A team from the US Army arrived in the country yesterday to perform the final rites and to conduct investigations.
But his relatives said so far they have not been contacted by the US Army, except for Dr. Kungel's nephew, Rajiu Deodat.
Deodat, whose name Dr. Kungel had given to the army in case of a problem, flew in from New York yesterday morning. Since his arrival he has been "busy getting documents together" in preparation for the funeral.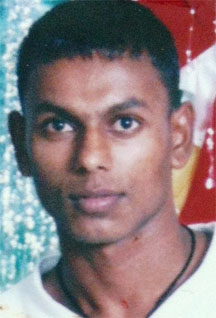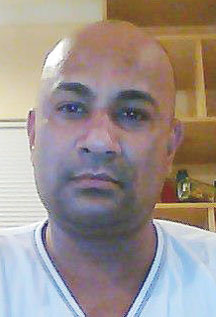 Dr. Kungel would have celebrated his 43rd birthday today. Last year his paternal grandmother died the day after his birthday and on March 7, he flew in to Guyana with his older sister, Angie for her death anniversary.
They were expected to leave on Sunday morning but her brother chose not to travel then because the first class seats were taken. They were scheduled to fly first class on Monday morning.
Disappointed
Meanwhile, his mother, Jasmattie said she was disappointed and upset with reports carried in the Kaieteur News yesterday that her son "was found in possession of what was described as evidence…" and that "the net was closing in around him."
She said the newspaper reported that it got the information from a "police source" and she asked the officers who were directly involved in the investigations "how they could do that. They tell me they don't know what Kaieteur News talking about because they never give any news like that."
The grieving woman lamented that the report had tarnished her son's name and insisted that he knew nothing about the murder.
She said she and Thakurdin along with other relatives were visiting Dr. Kungel on Saturday evening when he left to go out in a Toyota Tacoma he had rented, around 8:30 pm. At the same time they all left together to go home and her son did not go out again.
Jasmattie said her son was a very good and kind-hearted person and was "soft" and that he probably took his own life because he was "scared"
because he was wrongfully detained.
Another relative said "people in the public believe that Omesh did it [murder] but not because he is dead the investigations would not continue. Police are still doing their investigations."
Thakurdin was expected to be married next Monday but instead relatives have to plan for his funeral. In fact, they said sadly, he had already built his house nearby and was waiting until after the wedding to move in.
Around the Web