A nine-year-old student took a loaded shotgun to the Fort Ordnance Primary School in East Canje, Berbice on Monday, after he found it in a playfield near the school.
The Grade Four pupil, who had been scavenging in search of discarded kites, found the gun, a knife and other items in the field.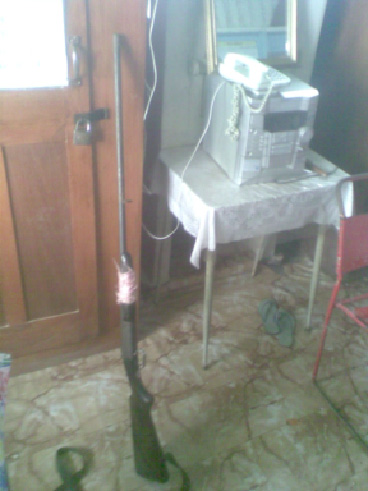 "I was looking for kites to fix up, but didn't find any," the nine-year-old subsequently told this newspaper. "When I go under the shed, I see a stripe haversack with clothes scatter 'bout the place," he added, saying that he started rummaging through the items and found the gun. "I wasn't sure if it was a real gun, part of it tie up with cloth," he explained.
He later took the gun to school to impress his friends
Fortunately, a potentially dangerous situation was averted by a vigilant teacher, who was alerted by a female student who saw the gun in the boy's possession and notified her.
"When the pupil told me [he] found a gun, I assumed it was a discarded water gun persons had used to play Phagwah. But nevertheless I asked to see the gun to be on the safe side," the teacher admitted. "It was a total shock to see what looked like a real shotgun and I immediately brought it to the attention of the headmistress."
The gun along with the other items, including the knife, was confiscated and the police summoned. The police have since identified the weapon as a 14-gauge single barrel shotgun.
Meanwhile, the boy's guardian said she was shocked when her children returned home from school and related what had occurred to her. While expressing concern over the fact neither she nor her husband were informed by the school or police of the lad's discovery, Ferdinand said she was thankful that no harm came to her children or any of the other pupils of the school.
Hundreds of persons had assembled at the field where the gun was found on Easter Monday to picnic and fly kites. The field is located at the entrance of the Fort Ordnance Housing Scheme, a new residential area being developed by the Ministry of Housing and Water. Since the housing scheme's establishment a few years ago, there have been several armed robberies where bandits escaped into the densely forested areas surrounding the community.
Around the Web