PPP/C MP Gail Teixeira yesterday said that cooperation between the government and opposition is crucial for the country's growth, while sounding a warning that political instability can threaten its economic gains.
"We have to start with a leap of faith that what we are doing is in the best interest of our people and our country," Teixeira, who is presidential advisor on governance, told the National Assembly during her presentation on government's proposed budget.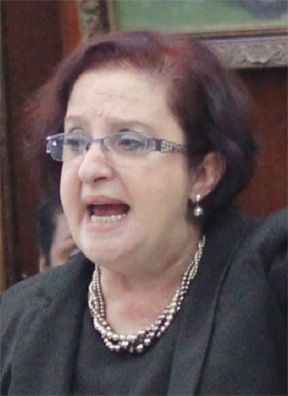 She said that "progress is visible, progress is palpable… you can see it wherever you go" but warned that "when there is political instability or a political climate that is fraught with problems how fragile that growth is and how fragile economic gains are."
Teixeira, who touched on multiple issues that were addressed over the course of the six days of debates by both government and opposition speakers, observed that many of the issues were "chicken and egg" type scenarios.
She cited the expansion of the Cheddi Jagan International Airport, Timehri as an example. "If we don't have the runway and we don't have the capacity, no planes will come," Teixeira said, while reiterating that a leap of faith would be beneficial.
Teixeira also pointed out that in the past, many times budget allotments did not deliver in crucial areas, such as drainage and irrigation. "We are in a country where our coastline is seven to nine feet below the sea. We always, always have to pump money into drainage and irrigation," she said, while adding that the opposition should not just denounce the $7B that was allocated for the sector, but instead bring forth possible ways in which to spend the allotment more successfully.
Teixeira also said that the government has showcased successes in the past 21 years and she noted that an IMF working paper reported Guyana's debt decreases were strongly facilitated through GDP growth and that Guyana was well below the Caribbean average of 17% of GDP being debt.
She also said successes are measurable, even in the area of immigration. She cited a United Nations Migration report and said that since "1997 onward, we have had a 55% decline in average migration to Canada from Guyana." Statistics also revealed that for the past decade, US immigration has also significantly declined. She did not mention the stricter immigration policies implemented by the two nations.
Guyana's immigration policy has always been friendly because Guyana has always wanted the best the rest of the world can offer, Teixeira said. "We don't have enough people for the tasks and jobs we have to do today we don't have enough bodies and therefore we must embrace other people, other skills to come in and build our nation," she added.
Teixeira also stated that Guyana has some of the "most progressive oversight provisions" in all of the Caribbean but is working on transparency and has welcomed the input of NGOs. She noted that even in the parliamentary process, there is room for further transparency and she noted that the opposition at times refuses to accept part of the blame.
She pointed to the Integrity Commission. "…How long I heard some of the speakers talk about it," she said. "They seem to be ill-informed because since February last year the new president spoke to the honourable Leader of the Opposition about names for the Integrity Commission. We are still waiting… same thing with the constitutional appointments, which actually allows the leader of the opposition to have a veto vote on the president. We put it in the constitutional reform," she added.
Teixeira also suggested that "a saving clause" could be added to allow the president to act when there are "tremendously long periods" without agreement. "…We built in political gridlock. We, we, we, this parliament, in the best interest of what was a gentleman's agreement," she lamented.
Opposition leader David Granger allowed Teixeira to finish her address before vehemently denying that he was intentionally being uncooperative. "The president never invited me to any consultation which I failed to attend," he said, while adding, "every single occasion that this Republic has invited me to consult on any appointment, I have accepted those invitations."
Granger further said that several months ago he submitted a list of his recommendations for appointments to the president and there was some exchange of correspondence with the Head of the Presidential Secretariat Dr Roger Luncheon. "…But I have never received any correspondence from the president inviting me to any consultations or to any matter concerning the appointments to which I have not responded," he added.
Around the Web