The three persons who were held in connection with the fatal beating of Plum Park resident John McPherson in the Cuyuni/Mazaruni were released from custody yesterday, while an eyewitness recounted the brutal assault and said the perpetrators threatened to kill anyone who tried to go after them.
Crime Chief Seelall Persaud said that after reviewing the case file, the Director of Public Prosecutions (DPP) advised that the men be released and the police conduct further investigations.
McPherson, 25, of Lot 28 Plum Park, Sophia, and who was a miner at Oko Backdam, Cuyuni, was fatally beaten by a group of men over an allegation of theft at his mining camp last Wednesday. He was later pronounced dead on arrival at the Bartica Public Hospital after being transported there from the camp. Initial reports from the police stated that McPherson and two other young men were beaten at the mining camp over the theft of a "mat," which is an instrument used to collect gold in mining operations.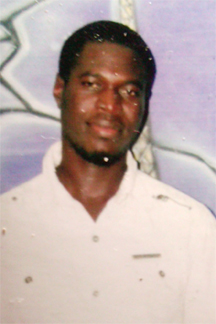 On Friday, a post-mortem examination done by government pathologist Dr Nehaul Singh revealed that McPherson died from asphyxiation due to compression injuries to the neck. Brown muddy water was also found in his lungs.
Meanwhile, a witness to the beating, who asked not to be identified, told Stabroek News that a truck with over 20 men arrived at the camp and requested to see McPherson, who was working at the time.
"One of the men came off the truck and started asking for some boy who John knew and he came out and said he was not around. I see the two of them start arguing and then he push him to the ground and start beating him with a wood," the witness said.
He added that after McPherson was pushed to the ground, which had muddy water, his hands and legs were tied together and they hit him countless times. It was also reported that two other men who were working at the time ran to his assistance but they too were also dealt lashes.
The witness added that while McPherson was on the ground crying out in pain, a whitish substance, suspected to be salt, was thrown on him before the men inflicted more blows. After the brutal attack, the witness said, the men told those present that "we too will be killed" if they followed them and they then drove off.
The witness suggested that the attack may have arisen from a number of thefts which had occurred prior to McPherson's death.
Around the Web