The body of the man that was found on the Providence Public Road East Bank Demerara on Monday, after an apparent hit and run accident, was yesterday identified as Suriname national Steven Rinaldo Tinnie.
Police had on Monday issued a press release informing that they had found the body of an unidentified male at Providence with bruises and lacerations and had taken the corpse to the Lyken Funeral Parlour.
All indications pointed to the man being hit by a vehicle as he was crossing the road and left for dead.
Yesterday, the dead man's fiancée Shamila Austin, speaking from their D'Urban Street home, told Stabroek News that they were scheduled to married on June 29 and had already made arrangements to travel to Suriname this Saturday so that he could renew his documents.
She explained that she last saw her fiancé in the wee hours of Monday when he escorted her to a taxi, on the East Bank Public Road, and left to rejoin birthday  festivities at his friend's house in nearby Somerset Court.
"Sunday we were at [friend's name] party at Somerset Court and after 1 am we decided to return home.
We walked out and stopped a car but Steven say he wasn't ready to go home yet, he would go back and party some more," she said.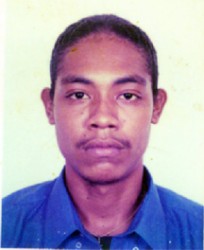 "I jump in the car and see he take off his shirt like he hot and head back as if he going to the party… I called [the friend] and tell he let Steven sleep over and didn't think nothing of it until he ain't call all day Monday," she added.
Austin said she became worried and called the friend's wife to enquire if Steven was still at the house but was told he had never returned and they thought he had gone home with his family.
She said she then contacted the man's mother and after learning that he was not there either, went to the Providence Police Station to find out if he had been locked up for jaywalking drunk.
The woman said that she became suspicious "that something bad" had happened when a police officer asked her to sit as she informed that a body matching Tinnie's description was at the Lyken Funeral Parlour. Her worst fears were confirmed when she and her mother-in-law visited the funeral home.
She described Tinnie as her soul mate who despite their 15-year age difference demonstrated unconditional love to her and her three children, who he told everyone were his. "He was just a good person.
An advisor to everyone; the only father my children knew and loved. He was very hard working.
He loved word games and his computer and video games and always tried to teach me about the computer," Austin said as she reflected on the 11 years they shared together.
He was once employed as a graphic designer at Kaieteur News and taught computer repairs part-time at a city private school but had switched to construction since to him it brought in more money and a fixed and dependable income.
The Scrabble and Pictionary lover leaves two siblings and his parents all from the neighbouring Dutch country.
Police have said that investigations into the hit and run are ongoing.
Around the Web