Minister of Natural Resources and the Environment Robert Persaud yesterday announced that the Guyana Geology and Mines Commission will cancel the mining lottery for South Rupununi following calls by residents of Aishalton, Maruranau, Achiwib, Shea and other communities.
The Minister along with officials of the GGMC met with residents from the Amerindian communities, to provide them with an update on mining policies and other forms of national development, including the 2013 Budget, according to a press release from the ministry.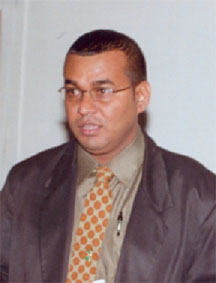 "This decision was welcomed by hundreds of residents from the South Rupununi at the meeting which was held at the Aishalton Secondary School to discuss the recent Special Mining Lottery which was held last week in Lethem by the GGMC," the statement said.
The release went on to say that the ministry and its regulatory agencies will continue to consult and engage all stakeholders to improve the management of Guyana's natural wealth.
The minister also referred to the recent budget cuts which he said will affect the national development of Guyana, including village development projects for the sustainable development of Amerindian communities.
The release said that this notwithstanding, the government is committed to developing the natural resources of Guyana by making more mining properties available, but at the same time respecting the rights of the Amerindian people.
"This will be done in a transparent manner for all interested persons, but will be governed by the Mining Act and Regulations of the GGMC," he said.
The minister emphasised that the government will not condone illegal mining as the GGMC is boosting its capacity to increase monitoring, compliance and enforcement within all mining districts.
"However, the Minister assured hundreds of miners and residents present that his Ministry will continue to engage all miners, including Amerindians to ensure equal access to mining properties through a transparent mechanism," the release said.
Also present at the meeting were Yvonne Pearson, Advisor to the Minister, Ministry of Amerindian Affairs; Ashton Simon, Indigenous Specialist, Ministry of Natural Resources and the Environment; Donald Singh, Manager, Land Management Division, GGMC; Wilson Larantino, Regional Chairman, Region Nine and residents of Maruranau, Achiwib, Shea and other communities of South Rupununi.
Around the Web