A carpenter was electrocuted when he came into contact with a live electrical wire as he was working on a building at High and Leopold streets yesterday.
Dead is Faizal Ali, 35 years-old, of Bella Dam, Pouderoyen, West Bank Demerara. He died at the Georgetown Hospital while receiving medical treatment.  Ali fell off the building he was working on after he was shocked by the wire.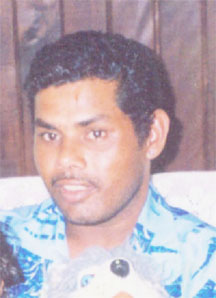 The police said in a release that Ali was working on the building when a metal tool that he was holding made contact with the live wire.
His brother, Roshan Ali, told this newspaper that he received a call around 1:30 pm from someone informing him that his brother had been in an accident and had been taken to the hospital. His brother said that shortly after this, he received another call informing him that his brother had died.
He said that the family subsequently learned that his brother was about to put up a scaffold on the second floor of the building when tragedy struck. Ali also said, when asked, that the wire which came into contact with his brother was not an illegal wire. He added that his brother has been working at the building, which is under construction, for about two years and that he had been a carpenter for the past eight years.
He was also the father of three and was the second-to-last child of his six siblings. A post-mortem result to determine his cause of death will be done on Friday. A wake was held at his parents' residence last evening.