A policeman was yesterday accused of shooting at a man during a confrontation and then substituting his own ammunition for some of the rounds he discharged when he later returned his service weapon.
Tactical Services Unit (TSU) rank Ocquema Dawson was remanded to prison after being arraigned on charges of discharging a loaded firearm, unlicensed ammunition possession and damage to property.
It is alleged that Dawson, 27, of 100 Murphy Street, Goed Intent, West Bank Demerara, on February 18, at Georgetown, discharged a loaded firearm at Philip Small, with intent to maim, disfigure or cause him grievous bodily harm.
On the same day, he is also alleged to have had in his possession two live rounds of 9mm ammunition without licence. Dawson is also accused of unlawfully and maliciously damaging a bullet proof vest, valued $245,000 and the property of the Guyana Police Force (GPF).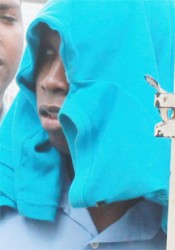 He denied the charges when they were read to him by Chief Magistrate Priya Sewnarine-Beharry at the Georgetown Magistrates' Court.
Prosecutor Stephen Telford said that on February 18, Dawson, who has been a serving member of the police force for the past four years, was on a mobile police patrol when he approached a group of men in the compound of "Globe Yard" located on Waterloo Street.
According to Telford, the accused just walked up and held on to one of the men, prompting Small to intervene by speaking to the police about how he had handled the man.
It is alleged that Dawson became annoyed and dealt Small a cuff and the man cuffed him back. The court was then told that Dawson discharged three shots from his service weapon, two of which hit Small on his right leg. Further investigations later revealed that the bulletproof vest which Dawson was wearing on the day in question was observed to have had several cuts about it.
According to Telford, the accused said that the vest was damaged by Small but police investigations revealed nothing to support the claim.
Meanwhile, regarding the unlicensed ammunition charge, Telford said that Dawson was issued his service weapon along with 15 rounds of ammunition from the TSU.
However, he returned the weapon along with 14 rounds, when he should have returned 12, considering that three were discharged at Globe Yard, from which two matching spent shells were recovered.
As a result, Telford said, it was a clear case that the accused had obtained the two extra rounds by illegal means.
Although Telford noted that Dawson is still a member of the police force, he objected to bail given the nature and seriousness of the offences. He also argued that the accused failed to execute his duties in a proper and professional manner. The prosecution contended that if granted bail, there is a likelihood that Dawson may flee the jurisdiction and not return to court to stand trial.
Attorney Lyndon Amsterdam, who appeared for Dawson, said that the grounds on which the prosecution objected to his client being granted his pre-trial liberty were not relevant. He contended and advanced as special reasons for bail that to remand his client to prison would cause him to be placed in an environment with persons whom he may have arrested and charged.
Amsterdam said too that Dawson discharged his firearm in a defensive manner, aiming only at Small's feet. According to him, his client was attacked by the complainant, who was carrying a pair of scissors at the time of the incident.
Counsel said that his client was only carrying out his mobile patrol duties on the day in question and should not have been arrested and charged as his conduct was in no way improper.
But the prosecutor noted that no special reasons were advanced relating to the offence as opposed to the offender.
After hearing submissions from both sides, the magistrate informed Dawson that he would be remanded to prison. His matters will be called again on June 21.
Around the Web