A Partnership for National Unity (APNU) parliamentarian James Bond, whose vote against the Amaila Falls Hydro Project was invalidated resulting in the counts being tied, has said that even though there was a tie the bill was in fact defeated and cannot be returned to the National Assembly during this session nor can the exact bill be reintroduced during another session.
While declining to comment on the fact that his being on his feet two Thursdays ago saw the numbers being tied as his vote was ruled null and void, Bond said unlike what PPP/C Chief Whip Gail Teixeira said during last week's session, the bill was no longer viable.
"The rules are simple. The fact is the bill needed a majority to pass, a tied vote does not give the motion a majority hence it was not passed it was defeated," Bond, a lawyer, told Stabroek News yesterday.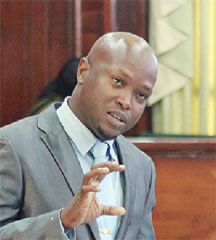 He said as a result of that defeat the bill cannot be brought back in this session of the National Assembly and has to wait after the recess.
"Notwithstanding I would not rue the day I get to say no to the bill when it comes a second time," he said.
According to Bond, in the treatise 'How Parliament Works', written  by Robert Rogers and Rhodri Walters sixth edition at p209-210 it clearly states that if the bill is voted against, the bill can go no further nor can the exact bill be reintroduced in the same session.
"Therefore the Amaila and (Loans) Ceiling Bills are in their respective catacombs and can only be resurrected next session," he said.
During last week's sitting Teixeira had noted that at the previous sitting, the Amaila bill saw a tie and was not defeated. In reply to that, APNU's Chief Whip Amna Ally commented that the tie was registered on a "technical problem."
"It is not my problem that your people not in your seat my dear or their seat, sorry," countered Teixeira in reference to Bond being on his feet when he voted. She also pointed out that the relevant Standing Order said that a member must be seated when voting and this was further reinforced by Speaker of the National Assembly Raphael Trotman, who said that a member must be in his/her seat when voting as that is the accepted time order rule of parliamentary practice.
Asked yesterday for a comment on his nullified vote, Bond said he did not wish to bring back the issue into the public domain since it had already been settled.
"I do wish however to assure all Guyanese not just our supporters that APNU is serious about the people's business and will stop at nothing in protecting their futures and that of their children irrespective of race, creed, political persuasion or economic dispensation," Bond told this newspaper.
Around the Web